Campus hosting Halloween events all week long
There are many Halloween events happening on campus this week at Southeastern Oklahoma State University. These events are hosted by various organizations and are open not only to students, but to the public as well.
On Wednesday, Oct. 27, Southeastern will be hosting a Haunted Trail from 6 p.m. to 9 p.m. at the Crooked Smile Trail located at 2408 N. First Ave. in Durant, Okla. Participants will enjoy a half-mile long haunted trail, along with a "trunk or treat" event in the parking lot. To gain entry, visitors ages six and up must bring either $5 or five perishable food items.
On the same day, the Office of Student Life will be sponsoring a fall festival from 6 p.m. to 8 p.m. and SE Ghost Tours from 6 p.m. to 9 p.m. in the Student Union Plaza and Atrium.
Additionally, on Thursday, Oct. 28, Housing & Residence Life and the President's Leadership Class will be holding a Graveyard Haunted House in the North Hall courtyard and gazebo area, and a safe trick or treating event in front of Shearer Hall. Various organizations on campus will have booths with candy and games available for attendees. The public is welcome to attend.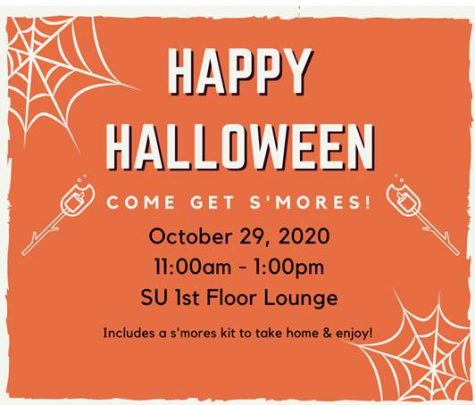 On Friday, Oct. 29, the Office of Student Life will be giving out Halloween s'mores kits for students to take home from 11 a.m. to 1 p.m.in the Student Union first floor lounge. The Queer Leftist Book Club will also be hosting a Halloween party from 7 p.m. to 9 p.m. in the Student Union second floor loft.
On the same day, the Black Student Association will also be holding a Fright Night Costume Party at the Magnolia Room in the Hallie McKinney Ballroom from 8 p.m. to 9:30 p.m.
Throughout the entire week, the Henry G. Bennett Memorial Library will be hosting a costume contest on their Facebook and Instagram pages. Participants can submit photos online or stop by the library in person. Submissions are due Oct. 28 by 9 p.m. Three winners will receive a treat bag and a gift card to Einstein Bros. Bagels.
If you're looking for some Halloween fun this week, stop by one of these events. For more information, contact the Office of Student Life or the organization sponsoring the event of interest.