Connecting to culture through traditional foods
Traditional foods made in Native American tribes were once almost forgotten, but efforts in recent years by cultural groups have led to a comeback in the use of traditional foods.
Generations current to past are being reconnected through timeless recipes. The Choctaw Cultural Center, along with the Native American Student Association (NASA) and the Native American Institute (NAI) at Southeastern Oklahoma State University, are working to ensure that college students and the community can partake in the preservation of Native culture.
The Champuli Café at the Choctaw Cultural Center has been at the forefront of these efforts. Champuli means 'delicious' in the Choctaw language. The menu includes modern food items like pecan salad with pecans grown at Choctaw farms, but many traditional foods are also included on the menu.
Tanchi labona, grape dumplings and banaha are all staples on the menu and served daily. Frybead is made fresh by the order and is served as a side dish and with meals.
Head chef, Amy Salcedo, takes pride in her work. Originally from Marlow, Okla., Amy grew up in a Choctaw household and learned to cook traditional foods from her mother and grandmother. After leaving her hometown, she was professionally trained in the culinary arts, and worked in various restaurants in Oklahoma City before relocating to Durant.
"Being here and working for the tribe just feels right. It was a lot like coming home," said Salcedo. She went on to say that the mission of the café is to uphold the Choctaw Nation's values of Faith, Family and Culture while bringing in people and their families to connect to the culture through food. "Food is our connection to our ancestors," said Salcedo.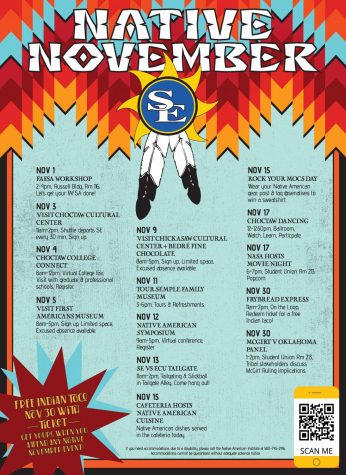 Chantelle Standefer, Choctaw language instructor, and Angie Kemp, Administrative Assistant for Food Services, have been working together to bring Native American foods to the Southeastern campus in celebration of Native November.
According to the Diversity, Equity and Inclusion board at the University of Wisconsin – Madison, Native November can be defined as "a month dedicated to celebrating the rich and diverse culture, history and contributions of Native people."
In celebration of these rich cultures, traditional Native American cuisine will be served in the Southeastern cafeteria on Monday, Nov. 15.
On Nov. 30, the Frybread Express food truck will be located on the Loop from 11 am until 2 pm. Students can receive a ticket for a free Indian taco by attending one of the many cultural events happening this month.
Jayda Janway, NASA president, encourages students to attend the events happening during Native November in order to learn about and better appreciate Native American cultures.
NASA, NAI and the Choctaw Cultural Center plan to continue their preservation efforts for the Choctaw culture, and all Native American cultures. Their goal is to bring more cultural events to Southeastern's campus soon, even after Native November has ended.