Semple Family Museum to hold grand opening
On Saturday, Oct. 16, Southeastern Oklahoma State University will host the grand opening and ribbon cutting of the Semple Family Museum of Native American Art. The museum's long awaited opening will be an opportunity for people to learn about the rich cultures of Native American tribes, as well as the history and sentiments of the Semple family.
The museum contains over 150 Native American art pieces, which represent 26 federally recognized tribes and more than 80 artists. Some of these were previously collected by Southeastern, but never displayed. The art collection includes pieces from several donors acquired as far back as the early 1990s.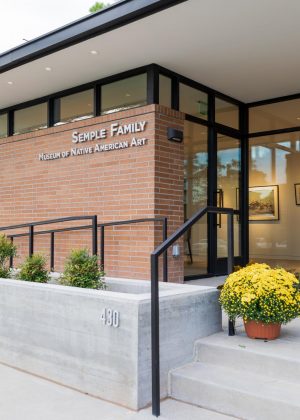 It was important to the Semple family— Frank Semple, Janie Semple Umsted and Sarah Semple Brown— that this art be displayed, housed and protected properly in order to achieve their purpose of education, preservation and inspiration.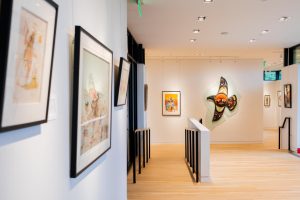 Stephanie Luke, Director of the Semple Family Museum, stated "The art inside is a one-of-a- kind collection. Our museum isn't about artifacts as many museums hold. Our museum focuses on art: paintings, sculptures, pottery, et cetera."
According to the Semple family, two of the other main inspirations for the museum were to honor the memory of a beloved family member, Bill Semple, and to build on the legacy of their Choctaw family. Their ancestors had a significant impact in the Choctaw tribe, which in turn impacted the history of Durant and Southeast Oklahoma.
Before the original building was torn down and the new museum was built, it was the home of Umsted's art teacher, Norma Leslie. Brown, who is an architect living in Denver, Colo., drew up blueprints of the museum and made sure to implement details of the original home to keep its memory alive. Though the property is owned by Southeastern, the museum is funded as a gift from the Semple family.
Students at Southeastern will soon have opportunities to utilize the space. Guest speakers will visit to discuss the significance of Native American heritage, as well as the methods used to create the art.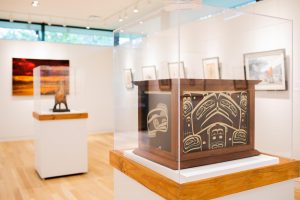 "We are planning a joint venture with the Career Management Center so that students can have a 'social interview' instead of a formal, across-the-desk setting," explained Luke. "This will develop skills and provide exposure to the collection."
The grand opening and ribbon cutting ceremonies will take place at the Semple Family Museum located at 430 Montgomery Dr. on Saturday, Oct. 16, at 10 a.m.