Springfest 2021 brought back mud volleyball and social gatherings
Due to the COVID-19 pandemic, a lot of Southeastern Oklahoma State University's annual events were cancelled. However, after a difficult year, Student Life was finally able to hold Southeastern's much beloved Springfest event— a week full of fun games and opportunities for students to participate in.
The beginning of the week featured events such as an egg hunt, sunset picnic and movie in the parking lot.
Snacks and sweet tea were offered at the sunset picnic and multiple games of bingo were played. Prizes were also given out including AirPods, t-shirts, a snow cone machine and more!
Masks were required and social distancing guidelines were implemented at all events, but students were able to sit together on blankets at the picnic and eat their meals together.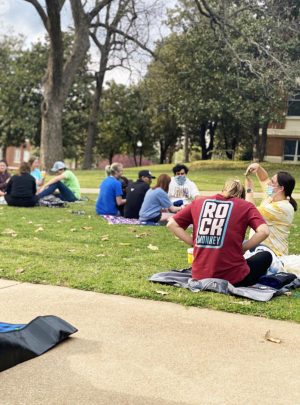 Cassie Bisson, junior psychology major, went to the sunset picnic for Springfest. "This was like my first in-person event to come to since COVID," she explained,  "so it was really nice to come and be be able to sit outside with people."
On Thursday, students were able to attend mud volleyball, which has been a tradition at SE since the 1980s.
Sophomore Madison Hunt, co-director of Springfest and Student Government Association member, was a continual participant in all the events, including mud volleyball. She also felt this year's Springfest was a good opportunity to get more physically involved in activities on campus grounds.
"I think now with the vaccine and people feeling safer, I think it was time to get people out of their rooms and out of their homes to get involved and get out of their comfort zone a little," Hunt stated.
Due to inclement weather, the outdoor game night on Friday had to be cancelled.
Overall, Springfest 2021 was successful and a hopeful jumpstart to more on-campus events in the future.