Southeastern students encouraged to participate in local mural competition
Students of Southeastern Oklahoma State University are taking advantage of The Magnolia Mile Art Alley by showcasing their creative abilities in the heart of Durant.
The Magnolia Mile Art Alley Competition hosted by Develop Durant 123 gives participants a chance to display their hard work to the community and add some color to the downtown area.
Develop Durant 123 is an organization focused strongly on developing the first three blocks of Durant they consider to be the heartbeat of the city.
Lauren Manon, sophomore Vocal Performance major, was named winner of the 2020 Magnolia Mile Art Alley Competition and awarded a prize of $1,000.
"It was kind of insane, I definitely didn't expect it," said Manon. Her goal was to "create something that other people could step into and be a part of." She won the hearts of the judges and community by creating an interactive mural called "Park Street" featuring a life-sized umbrella floating in front of a colorful streetscape.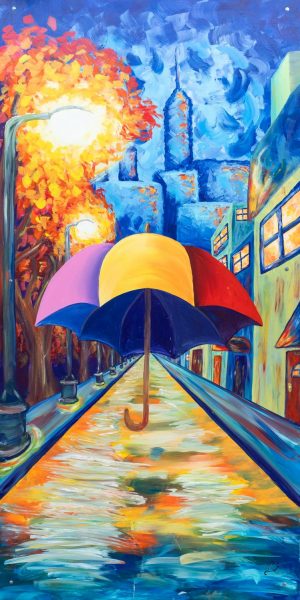 Unfortunately, Manon will not be participating in this year's competition, however, she believes it is important for students to expose themselves to as many opportunities as possible, not only to showcase their uniqueness, but to support each other as well.
Applications are open for the 2021 mural competition and can be found on online at durantmainstreet.org. The deadline to apply is Aug. 2. Selected artists will then be notified by Aug. 5. A winner will be announced at a future event that is to be determined.
For further contest and downtown updates, follow Durant Main Street's Facebook page or check out their website at durantmainstreet.org.