Sex.Love.Lies. raises awareness about domestic violence
On Monday, Oct. 11, the Office of Student Life and, along with the Women Empowered organization at Southeastern Oklahoma State University sponsored an event called "Sex. Love. Lies." This event, meant to raise awareness about domestic violence, was held at the amphitheater on campus and students heard from their peers and guest speaker Tascha Bond, a media studies instructor at Southeastern.
Senior advisor of Women Empowered and special education major, Anna Antuono, spoke about what domestic violence is and what it looks like. According to the National Coalition Against Domestic Violence, it is described as the "willful intimidation, physical assault, battery, sexual assault and/or other abusive behaviors as part of a pattern of power and control perpetrated by one intimate partner against another."
Antuono spoke about the progress made over the years to support victims and survivors of domestic violence, hold abusers accountable and to create and update legislation to attain these goals. Despite this progress, statistics show that people are still suffering from dating and relationship violence.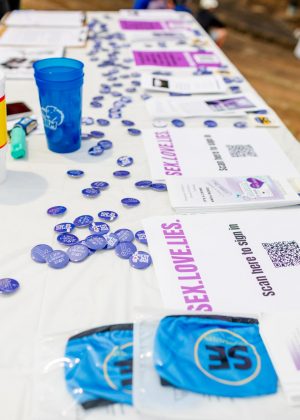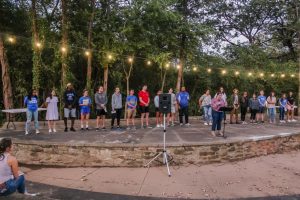 "Although there has been great progress made, there is still an average of 20 people physically abused by an intimate partner every minute," explained Antuono.
Twenty students stood behind Antuono to represent this statistic, and some read other statistics about dating and relationship violence. One student read that in one year, 10 million women and men are physically abused by an intimate partner in the United States.
Shortly afterward, the students heard from Bond, who spoke about different myths and red flags of abusive relationships. She also shared her own testimony involving domestic violence.
"What I wanted to do was take the opportunity to share with you what healthy, but more importantly unhealthy, dating relationships look like because I think that's extremely important," Bond said.
As an advocate for domestic violence awareness, she appeared on the Oprah Winfrey show in 2007, and tells her story every October in her classes and to certain groups on campus.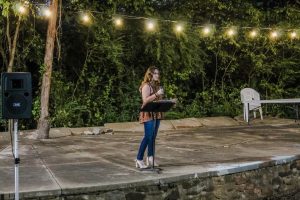 "I share my story because I think it's so extremely important that someone tells you that you deserve respect and you deserve more," Bond said to the crowd. "And when you find yourself in unhealthy relationships, know what those red flags are."
Breaking the silence and stopping the violence in abusive relationships is important for both women and men. In a questionnaire with The Southeastern News, Antuono explained why these discussions on domestic violence are important for organizations like Women Empowered.
"I think it's important for women to have resources across every aspect of their life and dating in college is a big one," said Antuono. "That could go really well, or it could go really poorly, so I think it's important that we educate our members and we offer them the resources to do that well."
If you or someone you know is dating or in a relationship that displays any red flags or signs of domestic abuse, or if you have any questions regarding these subjects, there are various resources available to reach out to. Contact the National Domestic Violence and Dating Violence Hotline at 1-800-799-SAFE, the Durant Crisis Center at (580)-924-3030 or contact Southeastern Campus Police at (580)-745 2727.