Mental health resources available for students
Mental health has a huge effect on life. It impacts how people view the world, the choices they make and more. For students at Southeastern Oklahoma State University, a variety of mental health resources are available through Student Wellness Services.
Because of the pandemic, many people have been separated from their friends and family, and many have struggled with feelings of loneliness. While the worst seemed to be over, the delta variant caused more fear and uncertainty.
For students who are dealing with complicated feelings or going through trying situations, the Counseling Center has several options.
Clinical Counselor Debra Fulenchek said, "Students can choose the right program for them: Social Anxiety Program, Depression Program, Insomnia Program, Substance Use Program, or the Stress, Anxiety, and Worry Program."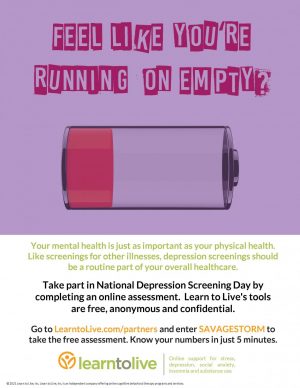 Two resources available are Learn to Live and Let's Talk. Let's Talk is a session where students can sit down and talk about school, life or anything. Learn to Live offers free online assessments, programs and tools that can help improve mental health. Students can sign up for Learn to Live at www.learntolive.com/partners using code "SAVAGESTORM."
These programs are confidential and accessible anywhere 24/7.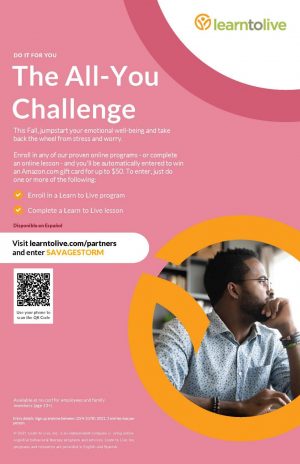 Students who are experiencing feelings of burnout may also be interested in joining Learn to Live's live, 30-minute webinar on Monday, Oct. 18, 2021 at 12 p.m.
This session is designed to help participants stay refreshed and prevent burnout by discovering and living by personal values. The webinar will also offer practical insights about how to get past barriers that may leave people feeling unfulfilled and drained.
To register, click here and use the code "SAVAGESTORM". After registering, confirmation and Zoom meeting details will be sent to the email provided.
For more information, contact Student Wellness Services at (580) 745-2988 or visit www.se.edu/student-wellness/counseling-center/.