May is Mental Health Awareness Month
What resources are available on campus?
When coping with mental health, it can be difficult to allow yourself to feel good. It can affect your daily life and continue to impose on simple things that make you happy. Any mental illness is a consistent problem with no clear solution, and therefore being aware of mental health and how it affects others is important.
Since 1949, the month of May has been dedicated as Mental Health Awareness Month with a purpose of raising awareness about mental illnesses, the strains of living with them and approaches for attaining mental well-being. Southeastern Oklahoma State University provides resources to help students become more mindful of their mental health, since many live with mental illnesses.
Shana Franklin, a clinical counselor at Southeastern, explained that the Wellness Center is holding a social media campaign during Mental Health Awareness Month. "This program aims to help students learn take a breath, become more mindful, check on their mental health status and learn to use positive affirmations in their daily lives," she stated.
Besides the campaign, there are various resources the campus offers to help students and members of the campus community. The Mindfulness Project, a therapeutic initiative intended to help achieve a peaceful mind, contains several resources. These include apps, book recommendations, meditation tips and even a Southeastern Mindfulness Map.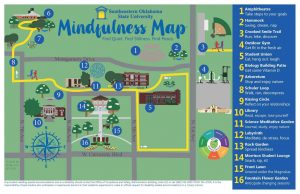 The Southeastern Mindfulness Map offers different locations around campus where different activities and ways to destress can be found.
Franklin said the significance of Mental Health Awareness Month is how it strives to reduce the stigma around mental health, especially the serious parts that people do not talk about.
"Some people aren't able to put a name to what is going on inside them, so this month can help shed some light on what is happening," Franklin explained. "Mental health doesn't look the same for everyone. There's no cookie cutter example of anxiety, depression, PTSD, et cetera."
According to the National Alliance on Mental Illness website, about 50 percent of all lifetime illnesses begin by the age of 14, and 75 percent begin by the age of 24. Research suggests that mental health conditions can be influenced by genetics, traumatic life events, a stressful job and much more. A mental health condition is not typically a result of one event, but varies.
Mental health struggles are not limited to a young age group. Adults in their 40s, 50s and older can be affected the same way a younger person can. Mental illnesses can affect anyone at any point in their life, and anyone affected by it should not feel at fault. Some people are predisposed, while others may not know how to cope.
For many people who are going through a hard time with their mental health, recovery is possible, especially when started early. Spreading awareness of the resources and treatments available in the community to help those who do not know what steps to take is essential. Understanding that it is okay to not be okay is an important part of Mental Health Awareness Month, and is one big step in the right direction.