Red flags to look for in relationships
Red flags are generally overlooked at the beginning of relationships, as infatuation clouds our judgement, but may begin to pile up until a person can no longer ignore them.
The most common red flags in an unhealthy or abusive relationship are extreme jealousy, possessiveness, unpredictability, a bad temper, cruelty to animals, verbal abuse, controlling behavior, forced sex or disregard a partner's unwillingness to have sex, control of all finances, etc.
Domestic Violence Awareness Month was established by the National Coalition Against Domestic Violence in October 1987. Domestic Violence Awareness Month was launched in order for individuals and organizations working together to raise awareness about domestic violence.
By the time that the red flags become too much for a person to handle, they have now possibly become financially dependent on the person, have gotten married, started a family or possibly all three. These factors may make it harder for the victim in the relationship to leave safely.
Domestic violence survivor Stephanie Luke said that she had to "continue to endure" the red flags and abuse in her marriage in order to save hers and her family's lives to get out safely.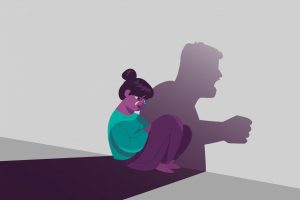 Anyone who has noticed red flags and is wanting to get out of their dangerous situation needs to come up with an escape plan. An escape plan should include where they can safely go, a packed bag ready to grab and kept in a secret place that is easy to reach.
The victim should also open a savings account in their own name, keep the crisis line phone number close at hand or memorized, have a code word established with friends or family, have an idea for if the police will need to get involved and review the escape plan as often as possible.
Luke's advice for anyone who is currently a victim of an abusive relationship to "get out, get help; it gets better."
The Crisis Control Center of Durant is open to women and children as a safe place to stay while they figure out their next step when leaving an abuser. The Crisis Control Center will also help find a different safe place to stay for any male victims.
When the shelter is at full capacity, they will still work to find every victim a safe place to stay. "If we can't accommodate, then we will find someone who can," explained Khayla O'Brian, Crisis Control Center advocate.
For anyone experiencing domestic violence and seeking help to get out, contact the Crisis Control Center of Durant's confidential, 24/7 hotline at (580) 924-3030.