Q&A with 2021 Homecoming Chair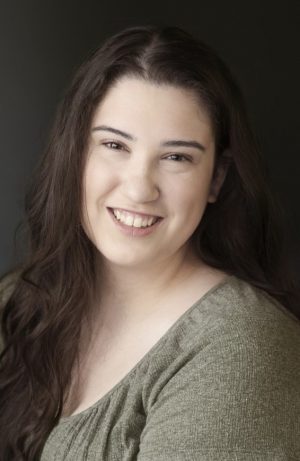 How were you assigned the role of Homecoming Chair and what was that like?
Originally, the executive team for SGA met, and James, Erin and I were all elected to the three: president, vice president and secretary. We appointed Carli Wharton as our campus event instructor, so originally it was going to be her. Then she got the opportunity to go teach full-time before she even graduated at her dream job and she said, "I'm taking it," and we were like, "That's fair." And then it just kind of fell in my lap and they were like, "Can you do this?" and I was like, "Yes!" So, it wasn't intentional, but it ended up happening. It was a weird set of circumstances that happened.
When did it fall into your lap? Was it a few weeks into the semester or before that?
It was like our first executive meeting that we had because we knew she was leaving but we weren't quite sure if she was still able to do stuff or not, and then she was like "I'm not going to be able to do this," and so I think it was the first or second week of school.
What does your role consist of in terms of Homecoming Chair?
Me, along with Student Government and the Office of Student Life have planned this week of events. Student Life did the domestic violence rally that happened on Monday, and then tonight is the Battle of the Organizations, and Wednesday is the Street dancing in the U hopefully if it doesn't rain. Putting those things together, getting promotion out, the DJ booked and all the little things that go into planning an event out, and then we're working together with Student Life for the bonfire. It's also running the Homecoming royalty competition throughout these past couple of weeks.
Has that been really stressful for you?
Yes— it's just been a lot. There's a lot of paperwork, and then getting everybody set for interview times, and getting timing out for everyone's schedule because everybody's really busy. We've hit midterm season – which does not help – I had a midterm yesterday and I was like, "Well, here we are." There's a lot more work that goes into homecoming the couple weeks before, specifically this week because it's kind of like "hurry up" and then it's like execution week.
What is your favorite homecoming event so far or one you're most looking forward to this week?
I'm really looking forward to bonfire just because everybody knows what bonfire is, especially in town. My freshman year, it got moved inside because it rained, and the Amphitheater flooded. So, I'm really hoping that it's going to stop raining and we're going to be able to have a bonfire outside and do everything like we should because there's all this excitement about it that I haven't fully gotten to experience yet, and I just want to be able to experience it.
What are we going to be doing at the bonfire?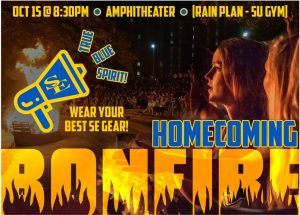 The SPARKS team comes and dance, cheer comes and does their cheers and routines, and then Cardinal Key announces Big Man on Campus. We'll introduce the Homecoming court once again before the two royalties are announced on Saturday. The Big Man on Campus candidates do their chants there, the band comes and plays, Bolt usually comes and the President usually comes. I call it a pep rally on steroids because it just reminds me of high school pep rallies, and I'm excited.
What would you say is your favorite tradition in Homecoming, would you say it's the bonfire as well because it is a long-lasting tradition?
Yeah, and I just think that's cool to have something that's that historical on campus and that everybody knows about that comes back every year. We've done it for decades, and Street Dance is actually a tradition that they used to on the U as well, but then it stopped pre-2000's. Mark Webb and Stephanie Davison have all been to street dances and they were super excited about it, and when the executive team was talking we were like, "Yeah this is something we want to bring back."
Who is on the voting board for Homecoming royalty?
We had interview judges, and application judges are to remain anonymous, but the entire student body can vote. You'll be able to vote for two candidates, and it will be on Blackboard Wednesday from 8 a.m. and it will close Thursday at 4 p.m. Then the votes will get certified, and only a couple of people will know them until Saturday. Anybody that is enrolled at Southeastern can vote.
Who is on the interview panel?
Our interview judges were Mike Davis, Tiffany Tate, Katie Webb and then we had two freshmen PLC students who were Christian Thralls and Bailey Speed.
What is the planning process for Homecoming? How much a week have you spent planning this?
I would say probably about 10 hours a week for the past few weeks, just getting everything down and planning out exactly what we need for this. I was working with Student Life to get an ice cream truck for the Street Dance— free ice cream for students! It was kind of like having another class, I'd usually go home, and I'd just sit down and start planning Homecoming stuff and have been figuring out logistics and I was meeting with Vice President McCraw like once a week if not twice by working out some things there such as getting trophies done, and flowers ordered and things like for royalty.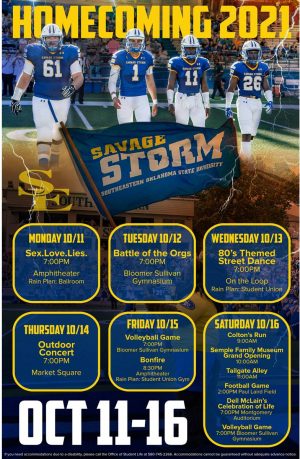 What's the most stressful aspect about planning HOCO?
It's just like the royalty competition because it's just so much. It's getting the packets out – because the packets for royalty went out two weeks before last Wednesday, so it was like those need to be done a week before so we can get them through final editing phases – and then once the packet judging starts, it's like back-to-back. Packets were judged Friday, interviews were Monday, I have to have names to people for trophy engravings, and making sure Blackboard was set up. I've planned events before, so that to me isn't too bad but the royalty competition is a lot.
It should be a pretty big accolade that you should be able to put on. Is it something that would be recognized for a resume— what is your major?
I'm a double theater major in acting and directing and theatre management promotion. Hopefully planning out my university's homecoming pays off. That will be something I'll be able to use because it is a lot of planning and organizing and everything, which is a lot of what theatre promotion is.
Who picked the Homecoming theme "Back to the Future?"
James Quarles and Carli Wharton worked with Mark Webb back in the summer when Carli was originally going to be Homecoming chair, and they picked the theme. When I sat down with James and Erin, I asked do you guys want to keep this theme or do we want to switch it? They had ideas in their heads that he shared, and they said "let's just keep it" because that's what we were going to roll with, and Mark really liked it, too.
What do you think is the significance of Back to the Future?
Our idea behind it was that there's a whole two years of students on campus who don't have a feel for homecoming, don't have a feel for kind of what Southeastern is outside of COVID. We wanted to spent a tradition-based homecoming, which is why we brought like street dancing back and we're so excited about the bonfire and everything like that. We figured Back to the Future would be something that people would recognize and we're going back to traditions, but we're bringing in our own traditions that hopefully people take in the future. Battle of the Organizations is something that's like super popular at UCO, it's a massive thing there and one of their biggest events of the year there. My high school did a version of it, and it was always super successful, so that was something I talked about and wanted to bring in that hopefully would carry forward.
What do you wish more people knew about HOCO?
That it's for everybody and that you don't have to necessarily be in an organization to come and enjoy the street dance or enjoy Battle of Organizations because Homecoming is for everybody. Even if you're not a student, you can come to Homecoming. It's not just these two things, there's something every day. We're encouraging people to go to Market Square because everybody comes to Homecoming— the whole town comes to Homecoming. All the hotels are booked right now in Durant. We had some theatre alumni who were trying to find places to live or sleep for the weekend, and so Rylee was putting things on Facebook saying, "can somebody stay at somebody's house?" Homecoming really is for everybody.