Southeastern students embrace their heritage for Hispanic Heritage Month
For people of the Hispanic culture, National Hispanic Heritage Month is important because it gives them the opportunity to celebrate the history and culture of their family.
National Hispanic Heritage Month encompasses people of Spanish, Mexican, Caribbean and Central American descent.
Students at Southeastern Oklahoma State University were given a platform to educate others about their culture by speaking about its different aspects and their personal values.
Elysa Hernandez, a sophomore communications major at Southeastern, led the discussion panel at Celebrando Cultura Hispana on Wednesday, Sept. 29, an event held on campus to celebrate Hispanic Heritage Month. She first described what it was like to eat a home cooked meal in a Hispanic home, and how "you are always left with food, and you always come filled with food."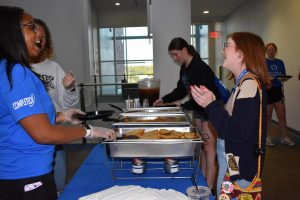 Hernandez brought other students and a professor, Dr. Rolando Diaz, on stage to add onto the discussion of different facets of Hispanic culture such as Hispanic history, food, dancing, traditions, education and more.
Dr. Diaz, an English and Spanish language professor at Southeastern, emphasized why it is important to know the early history of Hispanic heritage and language.
"It's important to know the early history of the Hispanic because we are a very rich, multi- layered people," he said. "The reason it's so important to me is because I wanted to learn about my identity."
He emphasized how the Spanish language is an "incredible" resource to obtain, and students who speak it should be prideful that they do. "I tell students, 'Your degree will have a value added to it if you speak a second language.'"
Ricardo Rojas, Jr., a freshmen aviation major at Southeastern, spoke about traditions he observes with his family. One that he spoke most about was Día de los Muertos, or Day of the Dead.
"It's pretty much a day where you remember all of your past loved ones that have passed away, and it's just a really great day because you get to remember and keep them in your thoughts," he explained.
He also explained how during this celebrated time, living family members create altars to remember their past loved ones. They make their favorite foods or leave special items behind to keep their memory alive. Rojas added that some people even leave tequila.
Later in the discussion, Hernandez went further in depth about her own background. Her mother is from Brazil and her father is from Mexico. Hernandez said that growing up, she and her sisters were not allowed to speak English at home due to the possibility of not being able to communicate, which could be problematic. If they did speak English, they had a rule that limited it to five minutes at a time.
"There were days where we were going like thirty minutes or maybe multiple hours where we just weren't speaking, but it's that kind of discipline that was good for us to be able to maintain that Spanish," Hernandez said.
She went on to say there is a lot that goes into being Hispanic, including not being ignorant towards culture or ethnicity.
An important part of Hispanic Heritage Month is embracing and celebrating both your culture and your roots. Just like Hernandez and Rojas, people from all around the world can take pride in who they are and share it with others around them, further proving one of the many values that they uphold: unity.