Southeastern athletics resume after semester off
After a semester hiatus from sports in Fall 2020, the Southeastern Oklahoma State University athletic teams will be able to host and travel to games this semester. Spring teams with approved schedules include men's and women's basketball, baseball, cross country, softball, tennis and volleyball.
Cross country season began on Jan. 15 at Arkansas Tech University. On Jan. 29, the team will run at Southwestern Oklahoma State University. The remainder of the four-meet season will include competitions at East Central University on Feb. 12 and the Great American Conference Championship on Feb. 27 at SWOSU.
Basketball season is also underway. The 20-game season began on Jan. 7 and is scheduled to conclude on Feb. 27.
Rumors have circulated about the possibility of fans being allowed to attend sport events in person, but Assistant Athletic Director Matt Thomas said there is a multitude of factors to be considered before a decision is made.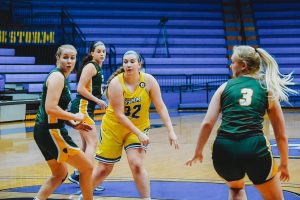 "I think everybody wants to, obviously, but I think that when we do make that decision, it will be done in the safest possible way," Thomas said.
Some of the factors taken into consideration are the protocols set by Southeastern, the State of Oklahoma, the Centers for Disease Control and the National College Athlete Association.
The women's volleyball season is scheduled to begin on Jan. 26 at Oklahoma Baptist University. Thomas said this semester, indoor sports will compete in division formats, meaning the team will play only 10 games.
Men's tennis will start on Jan. 29 and women's tennis on Feb. 6. Both seasons are planned to continue through April 16. The men's and women's teams will travel for their first matches of the year.
An action-packed baseball season will begin on Feb. 5. The team will host ECU. Softball will start on Feb. 6 at an away game against Texas Woman's University. Both seasons are planned to compete through May 1.
Rodeo starts Feb. 19 at Kansas State. March 18-20, Southeastern will host the Southeastern Stampede. Regular season rodeos are planned through April 30, with the College National Finals Rodeo planned for June 13.
Last semester, schools discussed the possibility of having a spring football season, but due to the nature of football injuries, it was decided that Southeastern will compete in a few scrimmages, instead. "We didn't want to risk players having injuries such as torn ACL's in the spring and then trying to recover by the fall," Thomas explained.
According to Thomas, COVID-19 protocols are in place for each of the teams and he expects them to be able to compete for the duration of the semester.
Those interested in keeping up with Southeastern athletics can find schedules, scores, watch livestreams and more at gosoutheastern.com.