Shop local and make a difference
Christmas is fast approaching and shopping local is more important than ever before. Small business owners have struggled this year with COVID-19 and a country-wide lockdown cutting deep. Luckily, downtown Durant gives you several perfect opportunities to complete your Christmas shopping and support local businesses simultaneously.
A few events that have already occured include:
Black Friday – On Nov. 27, several downtown businesses participated in Black Friday sales all day long.
Small Business Saturday – On Nov. 28, downtown Durant hosted an event called Small Business Saturday, sponsored by American Express. Durant's Shop Small Saturday offered live music, a progressive brunch, a shopper's lounge and special deals at several local shops from 10 a.m. to 2 p.m.
Events you can still mark on your calendar:
Mistletoe Market – On Saturdays from Nov. 28 through Dec. 19, the Mistletoe Market will be open from 10 a.m. to 2 p.m. in the Market Square, located on the corner of First and Evergreen. It will feature live entertainment and local vendors offering everything from baked goods to handmade soaps.

Visit the Mistletoe Market any Saturday until Dec. 19 for food, music, crafts and locally made gifts. (By Durant Main Street)

Love Local Week – Starting on Small Business Saturday, Love Local Week will sweep through downtown Durant. Every day through Dec. 4, downtown shops and stores will have special one-day deals. For example, Cyber Monday promoted online shopping, as many of our businesses have websites and offer shipping.
Fa La La First Friday – Dec. 4 is the last day of Love Local Week and the December First Friday. There will be live music, special deals, later shopping hours, a Christmas Cookie Crawl and more.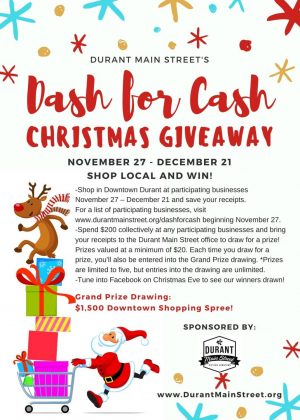 Shopping local can be pricier than shopping at a big box store, but it is inherently more rewarding. According to a civic economics study in Grand Rapids, Michigan, when you spend $100 at a local business, $68 stays within the community. When you spend $100 at a big box store or a non-local business, $57 leaves the area. Shopping small means more money stays in Durant and is used for the betterment of the community.
Several downtown stores are great destinations for family gifts. Looking for something for mom? Head to the Kopper Kettle. Something for dad? True Value Lumber Company has it. What about little brothers or sisters? Playtime Toy Store or the Classy Classroom are great places to look. Not to mention the multiple boutiques all over downtown that offer clothing and jewelry for every style, from rhinestone cowgirl to bohemian.
Check the Durant Main Street Facebook page for brand-new gift guides that will help you find the perfect gifts. There will be a gift guide for her, him, teens, kids, foodies, home, as well as health and beauty. There is something for everyone in downtown Durant.
For more information on the stores and shops in downtown Durant, visit www.durantmainstreet.org and browse the business catalogs. For more information on specific events, visit the Durant Main Street Facebook page for constant updates and information regarding special deals and business participants.
Support small businesses this year and support the local community.