March Madness comes to an end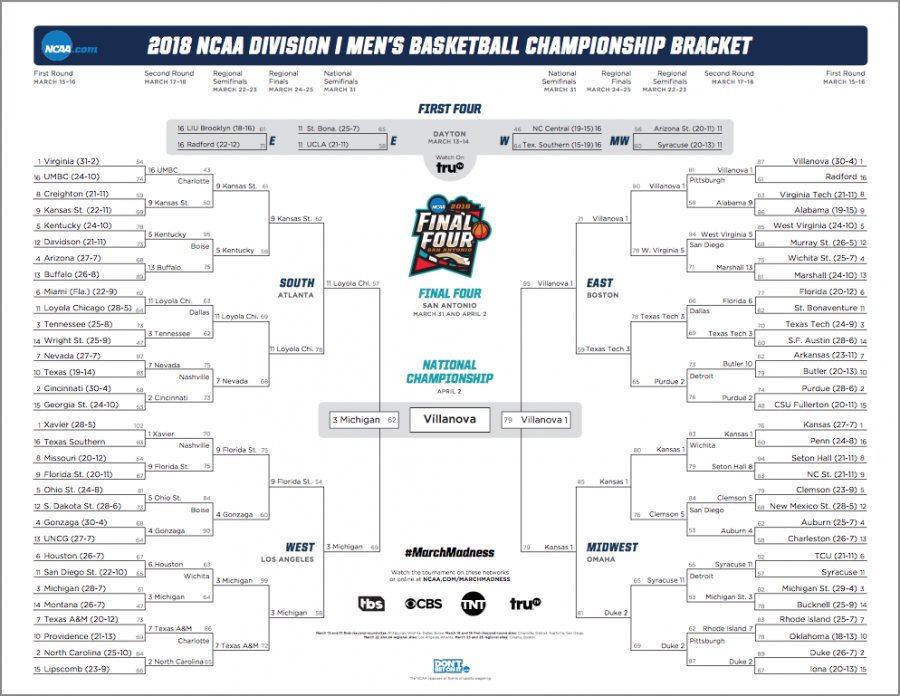 Ryan Perdue, Staff Writer
April 9, 2018
March Madness has come to an end. This year's tournament included consistent thrilling action with unpredictable results, as the Wildcats come out on top. 
History was made in the very first round of the tournament. For the first time a #16 seed knocked off a #1 seed. The Virginia Cavilers lost in a 54-74 defeat to UMBC. 
The Arizona wildcats also suffered an upset in the first round, falling to the #13 seed, Buffalo. They were one of the favorites to make a deep run in the tournament, possibly a final four appearance. However, Loyola Chicago would take control of the headlines in this western region of the bracket. 
An #11 seed who made a run all the way to the final four, the highest seed ever to reach the final four. The #2 seeded North Carolina Tar Heels were heavily favored to make it to the final four, went down in the second round in an 86-65 drubbing against Texas A&M. 
On the opposite side of the bracket, Syracuse made a much deeper run than anticipated. As the #11 seed the Orange defeated the #3 seeded Michigan State Spartans in the sweet 16. The following round they came up short by just two against the powerhouse Duke Blue Devils. 
This would bring on a much awaited #1 vs #2 matchup between Duke and Kansas.   The Jayhawks would outlast the Blue Devils in a tight contest 85-81. Which brought us to the final four. 
The matchup on the west side featured Cinderella story Loyola Chicago vs Michigan, while on top seeds Kansas and Villanova would square off in the East.    
Both games ended in double digit deficits. Michigan with the victory on the west while Villanova took the win in the east. 
As the title game got underway Michigan was in control for the start of the first half and could take the win as the underdog. 
The Wolverines would not be able to sustain this level of play as the Wildcats would chip away at the lead until they took control of the game heading into halftime. 
Going into the second half they wouldn't look back, maintaining a double digit lead for the majority of the half. This in large part to Donte DiVincenzo coming off the bench and scoring a finals record 31 points off of five three-pointers. 
Villanova would go on to win in convincing fashion 79-62, capturing their second title in the last three years.