Native November 2021
A month-long celebration of culture
As we enter the second week of Native November, cultural events are in full swing on campus.
Southeastern Oklahoma State University is made up of a very large portion of Native American students, 28 percent to be exact. SE also ranks seventh in the entire country in Native American graduates. This makes Native culture very important to the university, which is why the Native American Institute is available as an essential resource.
The NAI is a specialized department offering support services to students on campus. They are dedicated to the support of Native student academic and professional success, tribal partnerships and community-wide exposure to our region's Native American heritage. Their office is located in the Center for Student Success.
Native November is a month-long celebration of Native culture hosted by the NAI. A multitude of events and trips are being held throughout the month, and students are encouraged to attend in order to learn about and better appreciate Native American cultures. 
Most events are open for walk-ins, but there are some that require students to sign up beforehand.
Some events are also eligible for SOLD credit. To learn more and to register, visit www.se.edu/native-american/native-november/. To receive SOLD credit, students should email Samantha Rogers ([email protected]) a picture of them at the event they attended.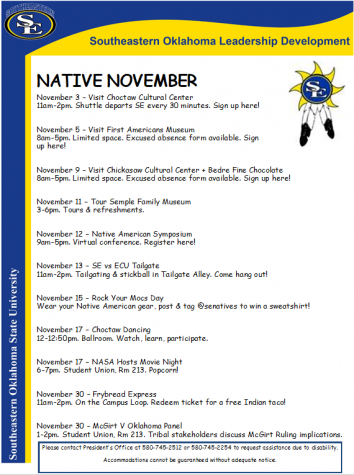 Lauren Rowland, Executive Director for Tribal Relations and the Native American Institute, explained that students do not have to be Native to participate in any of these events. "The Native November events are for the entire campus and our community. We want everyone to come and take part in any event that interests them. My hope is that students, faculty and staff would find at least one event this month and go," she shared.
For more information about the NAI, contact (580) 745-3368 or follow their Instagram @senatives to stay updated on current and future events.