Rodeo Hall of Fame Induction 2021
Southeastern Oklahoma State University will host the fifth annual Rodeo Hall of Fame induction ceremony on Saturday, Nov. 6 at 6 p.m. in the Visual and Performing Arts Center. This ceremony will honor the newest members of SE's Rodeo Hall of Fame.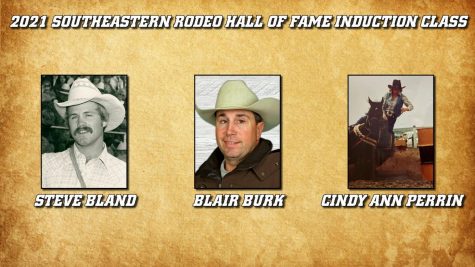 The 2021 honorees are Blair Burk, Steven Bland and Cindy Ann Perrin. Burk will receive the award in person, while Bland and Perrin are being awarded posthumously.
These individuals are being inducted into SE's Rodeo Hall of Fame because of their accomplishments as students at SE and what they achieved after graduating.
Christi Braudrick stated, "They had to have contributed service in some way or won prestigious awards or be recognized in some way."
Following the ceremony, there will be a total of 12 members in SE's Rodeo Hall of Fame.
Tickets can be purchased by calling (580) 745-2173 or from any SE Rodeo team member. Cost to attend the function is $50 per person, or tables of eight can be reserved for $350. All funds raised will go towards the SE Rodeo scholarship fund.
In the past, this ceremony has been attended by nearly 230 people, and raised thousands of dollars.