Fall graduation application deadline quickly approaching
The Fall 2021 graduation application is due Friday, Nov 5.
To apply, students have to complete a minimum of 124 credit hours. Thirty of the credits must be from Southeastern Oklahoma State University. Each major requires a different number of liberal arts credits.
Students can check their progress by going to Colleague Self Service on se.edu, clicking the Academics tab on the right side of the screen, followed by the drop-down menu, and select "My Progress." This page shows students' total credits, completed credits, in progress credits and any planned credits.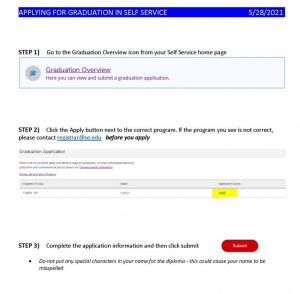 Students can apply for graduation through Colleague Self Service by selecting Graduation Overview, then clicking Apply. Once students have submitted the application, they will receive a confirmation email within three weeks. In this email will be the final steps to finalizing graduation.
These steps include certification of graduation, exiting counseling (if student loans were taken out while in graduate school), a $25 fee and the graduate survey. All of this will be sent out when the application has been received and processed.
Graduation regalia must be ordered before Nov. 15 from herffjones.com/college/sosu; otherwise, students will need to purchase in-store.
The commencement ceremonies will be held in December, one for bachelors degrees on Dec. 11 and one for masters degrees on Dec. 10.
If students have any questions or concerns, they can reach out to the Registrar's office at [email protected]