Voting for Big Man on Campus has begun
Big Man on Campus is a well known homecoming tradition at Southeastern Oklahoma State University. Each year, the Cardinal Key Honor Society donates money to the Juvenile Diabetes Research Foundation. Students compete as individuals or representatives of organizations to see who can raise the most money for the cause.
Since 2017, Cardinal Key has raised $6,174 for JDRF.
Students are encouraged to donate because it helps fund research for juvenile diabetes. Along with being a good cause, it's also a good way to get involved in homecoming festivities.
Susan Hodson, advisor for Cardinal Key, said "Big Man on Campus has been active since 1991 and this event gives students a chance to get involved and possibly run for Big Man on Campus."
Big Man on Campus is one of the many homecoming traditions that take place each year, and getting involved is a great way to meet people and make new friends.
The deadline to sign up for Big Man on Campus was Thursday, Oct. 7, but students can still participate in many ways. They can donate money to the research foundation, get involved in organizations to help their candidate running for Big Man on Campus and they can also attend the homecoming festivities where the candidates will be running.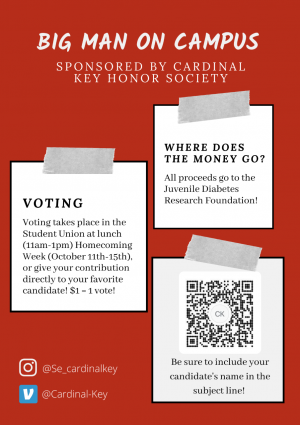 Students can donate in the Student Union from 11 a.m. to 1 p.m. Monday through Friday of Homecoming Week.
Students can contact Hodson for more information on how to get involved at (580) 745-2058.