OSF Reimagined
Summer arts to be performed under the stars
Last year, the Oklahoma Shakespearean Festival hosted by Southeastern Oklahoma State University was cancelled due to the COVID-19 pandemic. This year, the festival will return in a reimagined format.
The Season Under the Stars, a series of outdoor cabarets, recently invited children, teens, college students and professionals from the surrounding areas to audition.
Auditions ended Saturday, April 10, and cast members are currently preparing for their upcoming performances.
"We're going to have around 40 participants this year. We had to reimagine the way we do things and because of safety concerns, everything has to be outside," said Riley Coker, Associate Professor and Producing Director for OSF.
The Oklahoma Shakespearean Festival, founded in 1979 by Molly Risso, traditionally welcomes around 180 children, 30 teenagers and 50 professional company members to campus.
Unfortunately, the festival had to be scaled down due to COVID-19 restrictions.
"I can't bring in professional actors, directors and designers because I don't have anywhere to put them, and because of the nature of theatre, it's not like we can socially distance," Coker said. "The arts have to continue on, so we have to adapt with what we're given."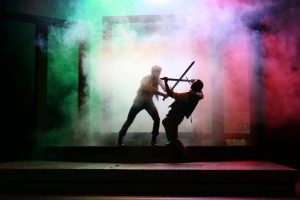 She hopes to have the traditional festival once again in 2022. "COVID willing, yes," she said. "We thought we would have one this year, but you know. Hopefully soon, fingers crossed."
The cabarets will perform the first two weekends in June, at 7:30 p.m. each Saturday and 5 p.m. both Sundays on the front steps of the Morrison building.
Tickets for the Season Under the Stars can be purchased by calling the box office at (580) 745-2696.
Social distancing and mask guidelines will be posted later.