Directors' showcase sparks emotions in cast and audience
On Saturday, April 17, Theatre at Southeastern held a directors' showcase featuring four one-act plays directed entirely by students.
The first play performed was "The Care and Feeding of Baby Birds," written by Ann Wuehler. The monologue is about a woman who cares for an abandoned nest of birdlings while contemplating her life and why it is deemed a failure.
The performance was directed by Raden Phillips, acting and directing major.
Karlie Carr, a junior acting and directing major, performed the monologue. Her emotional development of the character was the most prominent element.
At first, the tone of the play was mild, but Carr's emotional twists from depressed to frighteningly calm to sudden anger was flooring. At one point in the monologue, Carr threw a chair to express her rage, which was startling in the best way. It truly drew in her audience and conveyed the character's emotional distress.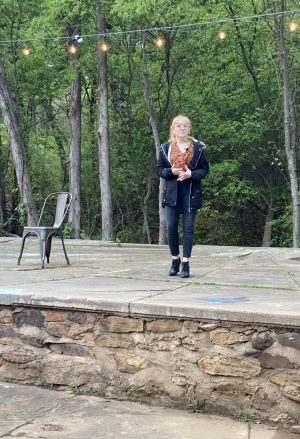 Phillips also directed "When a Great Tree Falls." This was written by Maya Angelou and performed by freshman Dottie Fuhr, who is majoring in musical theatre and acting and directing.
The poem discusses grief and how losing people you care about can have an everlasting impact. Fuhr worked her monologue well, keeping the audience intrigued with simple movements. Added background music was a great tool that helped illuminate the soft, sad tone she spoke in. Her pauses between phrases were well done and helped enunciate the emotion of the monologue in its entirety.
The other two plays performed were both directed by senior Joshua Fluellen, acting and directing and communications double major.
"Dear Friend" was the first monologue to be performed, and was an intriguing start to the event.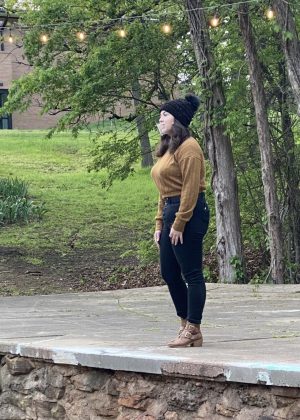 The monologue was based on the poem written by Stephanie Solis and revolves around the death of the narrator's friend and how they hope to reunite for eternity one day.
"Dear Friend" was performed by sophomore Heaven Williams, a technical theatre and theatre management double major.
It was short, but sweet. Williams was attentive to the audience and made sure to make eye contact with them. She made it feel as though she were speaking directly to me, almost as if we were having a conversation.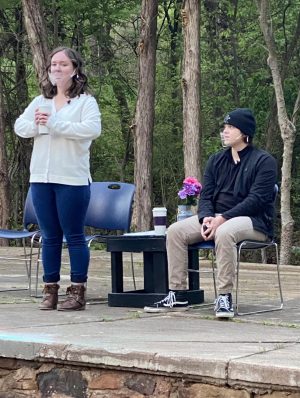 Freshman aviation major, Danilynn Brown, and Robbie Turner, freshman musical theatre major, both starred in "Anti-Depressant." The play tells the story of a depressed college student sitting in a therapist's waiting room where he meets someone who shares their points of view on life.
This was one of my personal favorites, and I immensely enjoyed the comedic factor that was present throughout the performance. The juxtaposition between the seriousness of the subject, depression and drugs, combined with small, funny factors made the play enjoyable to watch.
The directors' showcase was a success, and I believe it is just another example of how talented the students at Southeastern Oklahoma State University really are.
It was plain to see that the students who directed and performed last Saturday are extremely committed to and passionate about their work. The late, great Dell McLain would be immensely proud of every person involved.