Southeastern moves forward with new and improved facilities
DURANT, Okla. – In spite of the ongoing challenges presented by the COVID-19 pandemic, Southeastern Oklahoma State University continues to move forward.
Earlier this month, the University announced it had set a school record for the highest enrollment in a spring semester with 5,010 students.
Now, with an eye to the future, Southeastern has a number of new facilities in the works— some complete, and some in the planning stages.
Recently completed are the Semple Family Museum of Native American Art, a strength and conditioning facility and a volleyball gymnasium. On the drawing board is a new coffee shop and a new equestrian center.
"We are excited about all of these projects,'' said Southeastern president Thomas Newsom. "In some cases, such as with the art museum and the coffee shop, not only will our campus benefit, but so will the local community. In addition to university funding, we were able to utilize generous gifts from donors to help offset many of the costs associated with these additions and improvements. We are also in the process of updating our campus facilities master plan to assist us in developing a vision for the future.''
Following is an update on the new projects:
Semple Family Museum of Native American Art – This 5,000 square-foot multi-level facility was recently completed and houses Southeastern's extensive collection of Native American art.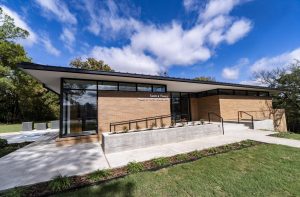 Funded by a gift from the Semple family, the museum is located north of the Fine Arts Building and Russell Building on Montgomery/Dunlap Drive. Family members involved in the project are Frank Semple, a retired energy industry executive, Janie Semple Umsted, a local artist and director of the Southeastern Art Gallery, and Sarah Semple Brown, an architect.
The facility includes an art gallery, audio-visual classroom, reception area, balcony, and walkout patio, which overlooks the historic Amphitheater.
The project  is the result of a collaboration among the Semple family, the University, and Southeastern Foundation.
A grand opening is being planned for the near future.
Athletics Strength & Conditioning Center, volleyball gymnasium – Southeastern Athletics completed its first major facilities campaign in 2020, which included a renovated volleyball gym, as well as a new strength and conditioning center, which houses a weight room and turf room in Bloomer Sullivan Gymnasium.
The strength and conditioning center is located north of the volleyball gym in a renovated space previously occupied by a swimming pool. The two areas (weight room and turf room) are approximately 5,000 square feet and 10,000 total square feet, almost doubling the space of the previous weight room.
Student-athletes began training in the new facility in August 2020; the volleyball team has been practicing in its renovated gym since last fall, with games scheduled this spring.
Both University and private fundraising ("Strong Together'' campaign) was utilized for the projects.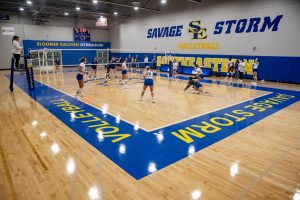 Einstein Bros. Bagels – This new dining facility will be located next to the SE Barnes & Noble store on University Bosemulevard, with the anticipated opening set for summer 2021.
Einsteins will be open for breakfast and lunch, with a menu that includes bagels, salads, wraps, sandwiches, desserts and a full-service coffee bar now crafting Caribou Coffee. It will also be the first Einstein Bros. at a university to feature the convenience of a drive-thru.
Einsteins will provide a third option for students to utilize their meal plans (others are cafeteria and Magnolia Eatery), and in addition, it will be open to the community.
Southeastern  is partnering with Einstein Bros. and Sodexo on the project, which is being funded with capital dollars from Sodexo and auxiliary revenue.
Equestrian Center – Also planned is a new facility for the Southeastern Rodeo Team, with a groundbreaking to be held later this year.  The new equestrian center will be located on First Street, near the Southeastern softball fields, and replace the existing facility on Ninth Avenue. More details will be available in the coming weeks.