Durant Main Street to host Art in April
Durant Main Street will be hosting a two-day festival for this month's First Friday celebration, Art in April.
The festivities will begin Friday, April 9 at 5 p.m. and will continue until 8 p.m. Events on Saturday, April 10 will be take place from 10 a.m. until 2 p.m. The festival has no admissions fee, so everyone in the community will be able to stop and enjoy the fun.
Vendors will have various booths along the sidewalks, in the Magnolia Mile Art Alley located behind Craft Pies Pizza on West Main Street, as well as throughout the downtown area.
This month's theme is art, so expect to see unique items for sale by local artists, as well as creative activities and tutorials the whole family will enjoy.
Vendor applications can be found on the Durant Main Street website, and the last day to apply is April 1. Crafters and artists will be prioritized, but all vendors are welcome.
According to Ieysha Sanders, Durant Main Street Public Relations and Marketing Coordinator, "The goal for the Magnolia Mile Art Alley, as far as this event is concerned, is to get more people involved in its future." The Durant Main Street organization wishes to "provide a space for the community to gather safely and comfortably, a place that caters to the needs of young adults and families," Sanders explained.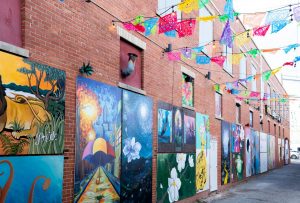 In addition to the arts and crafts show, there will be also live music, rock painting, sidewalk chalk stations, local artist pop ups, later shopping hours and special deals offered by downtown businesses.
2021 Magnolia Mile Art Alley Competition applications will also be distributed in order to encourage hopeful artists to become more involved in the future of the downtown art scene. Applications will be due Aug. 2, 2021 and can be found on durantmainstreet.org.
For additional information and updates on the Art in April Festival, check out the Durant Main Street Facebook page.
Be sure to stop by April 9-10 to show your support for local artists.