LGBTQ+ book club now available on campus
On Jan. 21, the Southeastern Student Government Association approved a new organization for students to join. The Queer Leftist Book Club is an organization designed to provide a safe space for students to discuss political and queer theory.
QLBC president Zane Compere said the club was started due to the lack of organizations designed specifically for students in the LGBTQ+ community.
One goal they strive to achieve is to help create both a "place for people to learn queer history" and "a place for leftists to come together and for non-leftists to learn what leftists believe," said Compere.
As a club, they especially hope to construct a space for students of the LGBTQ+ community and help them feel connected to others in the community as well.
Every week during meetings, members of the club join and discuss essays and articles revolving around queer theory, leftist theory and queer leftist theory. "Anything that falls into those categories is what we will focus on, although we are open to considering reading anything our members suggest," Compere stated.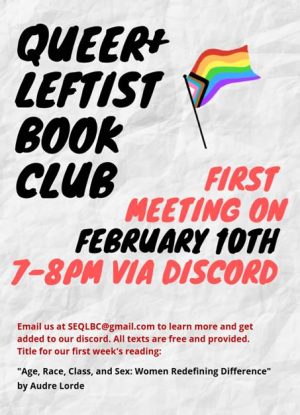 The group is currently reading a text by Audre Lorde, civil rights activist and writer, called "Age, Race, Class and Sex: Women Redefining Difference." According to Compere, this covers Lorde's experiences as a black feminist, communist and lesbian, in addition to her belief that movements should show solidarity in relation to people different from the social norm.
Compere said that the QLBC does not expect discrimination from the university, but there are members who have faced it and will likely face more in the future. "We hope that the community we build can be there for our members when or if they face discrimination or prejudice."
You can join the club by sending an email to [email protected] to receive updates on meeting times and texts.