Netflix and thrill
Top ten best Halloween movies ever
Halloween is upon us once again. As leaves turn and pumpkins grace every doorstep, the feeling of spooky excitement is in the air.
However, Halloween is not complete until you join in on the fun of these Halloween classic films. Whether you want a film fit for the whole family or a nightmare-inducing thriller, this list has you covered. Grab your popcorn, sit back and relax.
First on the list is Tim Burton's "Beetlejuice." This horror/comedy follows a ghost couple as they haunt their previous home and cross paths with an awful poltergeist known as Beetlejuice.
In 1996, we were introduced to "Scream." This horror/slasher flick has become a beloved cult classic. This film features famous stars such as Drew Barrymore. This thriller follows a young group of teenagers dealing with a mysterious psycho killer who is all about the theatrics.
Back in 1984, the world was gifted with the classic film "Ghostbusters." This movie follows a group of scientists as they embark on a journey to understand the supernatural. The film is beloved for so many reasons and helped surmount Bill Murray's career.
Who doesn't love "Hocus Pocus"? This classic 90s flick puts the "witch" in witchcraft. In this family favorite, three witches in Salem, Mass. resurrect every Halloween to bring thrills, chills and nostalgia.
For a movie that will really keep you up at night, try "Paranormal Activity." This small budget movie shattered the box office for its unique approach to scary movies. Following its success, a handful of sequels have been made, creating a whole paranormal universe.
If you want a movie for the whole family, "Halloweentown" is the best choice. This movie follows Marnie, a young witch struggling to decide between living her normal life, or following in her grandmother's footsteps as a witch.
"The Nightmare Before Christmas," a stop-motion animated musical, is a spooky time for all ages. Tim Burton has shown time and time again why he is one of the best creative minds in cinematic history.
Not much needs to be said about the psychotic thriller, "The Shining." This movie has stood the test of time and will keep you up all night. Jack Nicholson's performance in this film will surely give you the goosebumps you are looking for this spooky season.
"Us" is the most recent movie on this list, and absolutely deserves to be here. This horrifying thriller will make you question ever leaving the house again. It tells the story of a family in the 80s as they are dropped into a horrific nightmare with their freakish doppelgängers.
"I see dead people," is a quote heard so often, yet not many of people are aware that it is from "The Sixth Sense." This movie starring Bruce Willis is a classic suspenseful thriller featuring a young boy named Cole, who as you probably now know, can see ghosts.
As you stay safe and warm this Halloween, take some time to sit back, eat some candy and watch a few of these classic Halloween films. Before you go to sleep, don't forget to look under your bed.
About the Contributor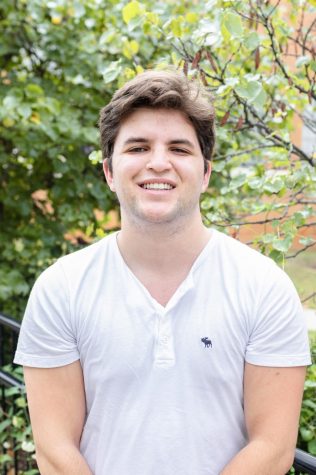 Joshua Fluellen, Staff Writer

Favorite Food: Pizza
Favorite Book/Magazine: TV Guide
Dream Job: SG for Chicago Bulls
Favorite Movie: Caddyshack
Currently Watching: Adventure...