TikTok ghost trend popular with college students
TikTok has been the starting place of many unique, mood-lifting trends during these trying times. A recent Halloween themed TikTok craze has captured the nation's interest, and many college aged students have joined in on the fun.
This trend involves individuals dressing up as ghosts by throwing the classic white bed sheet over their head and having some spooky fun in front of a camera. Sunglasses, hats and googly eyes have been placed over the sheets for extra pizzazz.
The TikTok created is typically a short glimpse behind the scenes of a ghost photoshoot that is done while the song "Oh Klahoma" by Jack Stauber is played over it.
This fad has become immensely popular among teens and young adults who may want a break from the chaos in their everyday lives.
Several students from Southeastern Oklahoma State University have also participated in the global TikTok trend. Jillian Parsons, junior liberal and applied studies major, recently took part in the fun while exploring Downtown Durant.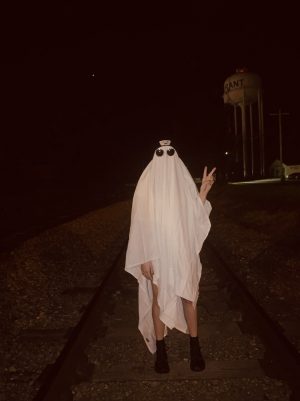 Parsons stated, "My friends and I wanted to try out this trend to see what we could do with the camera. My friend Benjamin Williams is a photographer, so he managed to get some cool photos!"
You can check out more of Williams's work on his Instagram @bw_photography365.
The top video using this TikTok sound was posted by Melany Vanesa from Ecuador. Her post shows students entering a Zoom meeting all dressed as ghosts, surprising their professor. As of Oct. 28, this video has reached 22.8 million views, 5.5 million likes, 76.7k comments and 276.4k shares. The song by Jack Stauber has been used in a whopping 455.1k videos on TikTok.
Even if you do not use TikTok, you can find all of the spooky videos by searching "#ghosttrend" or "#ghostphotoshoot" on Twitter and Instagram. Engaging in this ghost trend is an easy way to have fun, while also following COVID-19 guidelines of small groups, face coverings and staying six feet apart.
Have you had your own ghost photoshoot? Tag The Southeastern in your photos for an opportunity to be featured on this page. We would love to see your creativity shine!
About the Writer
Kylie Carrell, Staff Writer

Favorite Food: Steak and mac & cheese
Favorite Book/Magazine: Cosmopolitan
Dream Job: Sports photographer
Favorite Movie: How to Lose...