Local Zig Zag Galleries a place for artists and art lovers
Zig Zag Galleries in Denison, Texas could be a new hot spot for local students. ZZG is "a contemporary art gallery, vintage shop and workshop space." Above all, it is a place for artists of all types and skill levels to have the opportunity to display their work.
Co-owner and creative director of ZZG, Jenna Zapata, stated, "Often times, people feel as though art is an exclusive community for collectors and elitist, but art galleries allow for a space that is tangible, creative, and diverse–allowing anyone to participate no matter their age or monetary status."
After realizing the misconceptions everyday people had about art, she made it her mission to, "help guide and inspire other artists." She went on to explain, "I wanted people to feel comfortable growing and promoting themselves as artists regardless of age or talent."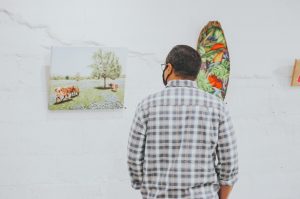 For artists interested in showing their work, entries for the SOUL exhibition must be sent in by midnight Sept. 15. Up to 10 original pieces may be submitted. These pieces will be displayed from Sept. 24 to Oct. 20. A special artist reception will be held Oct. 3.
For more information on entering, go to https://www.zigzaggalleries.com/callforartist. Zapata also stated that scholarships are available to cover entry fees.
ZZG offers something for nearly everyone. Whether it be participating in an art exhibition, getting crafty at a workshop or simply supporting the local artists, something is sure to be of interest.
The gallery is open Tuesday through Saturday from noon until 6 p.m. and located at 125 W. Woodard St.. Stop by Revolution Coffee Co. on Main, then swing by ZZG to appreciate the beauty and diversity of art.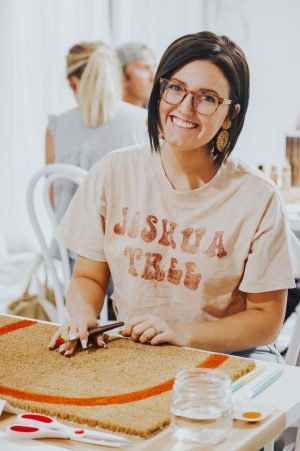 For the artsy and crafty, ZZG hosts a variety of workshops. These workshops usually range from 1.5 to 2 hours long and only cost $25 a ticket. In the past, they have hosted flower crown making, jean jacket painting and rainbow embroidering. The next workshop will take place Sept. 17 and participants will be creating rainbow rope wall hangings.
To buy tickets and check out other available workshops, visit https://www.zigzaggalleries.com/workshops.
Makers Markets are another event open to community participation. Vendors pay a small fee to rent a space, and then display their goods as they would at a fair. This monthly event allows for relationship building between artists, as well as a physical place for local makers to sell their wares.
Not only is shopping small a great way to grow local economies, but small-time makers are able to put valuable love and care into each product they make. The next Makers Market will be Sept. 19 from noon until 6 p.m..
Whether you are an artist or an art lover, visit Zig Zag Galleries soon. "I love seeing someone who loves to create feel uplifted by others and start to believe in themselves and their creativity," Zapata shared. ZZG would love to be a part of your journey.
Visit their website, https://www.zigzaggalleries.com/ or follow them on Instagram and Facebook @zigzaggalleries.