Third annual Diaper Drive hosted by SOSU College Republicans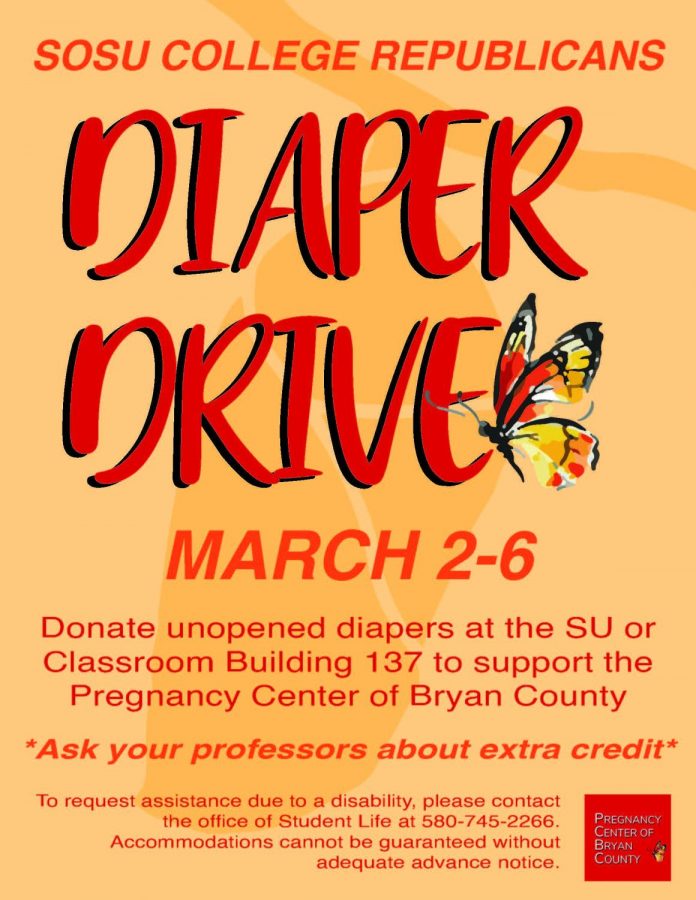 For the third year, the SOSU College Republicans are raising awareness and collecting diapers for the Pregnancy Center of Bryan County. Every spring, the organization hosts a weeklong event where faculty and students on campus are asked to donate diapers that are in turn donated to the Pregnancy Center of Bryan County.
According to Dillan Browne, president of the SOSU College Republicans, the diaper drive was suggested by a professor in 2017, during their first year as an official organization. "We did it once and the pregnancy center loved it," said Browne, "There is always a huge demand for diapers."
And the College Republicans certainly deliver; the organization also hosts an event every fall called the Halloween Bash in which the admission fee is one package of diapers. This past fall, over 2,000 diapers were collected for donation.
Students can add to that number by bringing unopened packages of diapers to the Student Union March 2 through March 6. Students may also bring diapers to Professor Conner Alford's office in the Classroom Building 137.
If donating to the Pregnancy Center of Bryan County is not incentive enough, some professors are giving extra credit in their classes to those who donate. There will be sign-in sheets available in the Student Union, as well as Professor Alford's office for those who hope to receive extra credit.
Donating could improve your karma and your grades!