Cast announced for upcoming theatre production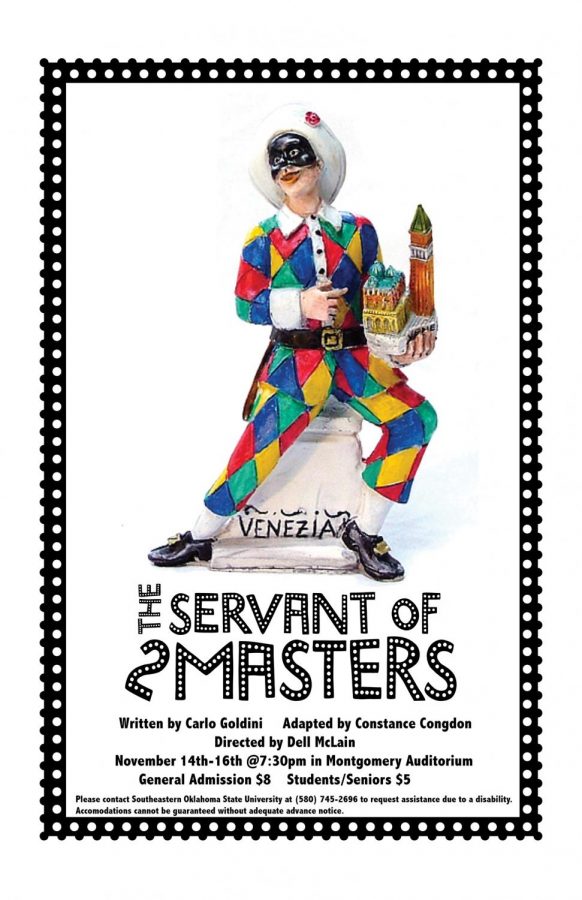 Madison Ellis, Contributing Writer
October 18, 2019
The cast list for the upcoming performance of "A Servant of Two Masters" was announced on Oct. 13 after auditions were held at 7:30 p.m. on the same evening.
   Unlike most of Southeastern's theatre performances, this play's auditions were unique because they were open to all students rather than just theatre majors.
   The final cast list announced with Adrian Hobbs casted as Truffaldino, Bailey Mishler as Smeraldina, Kelly Rhoads as Pantalone, Sierra McCoy as Dr. Lombardi, Trista Davidson as Clarice, Tyler Campbell as Silvo, Jordan Meggyes as Brighella, Raden Phillips as Florindo, Mackenzie Cruz as Beatrice and Joshua Fluellen as Porter.
   The role of waiter/servant was awarded to Jaiden Salazar, Alex Kellam, Marcus Rousey and Trey Wier. The musician roles were given to Robby Ray, Kat Weightman, Evelyn Garner and Heaven Williams.
   "A Servant of Two Masters" is an Italian comedy written by Carlo Goldoni in 1746. It was then revised in 1753. This play is full of twists and turns as it is a, "slapstick comedy, with modern references and potty humor. It's hilariously childish, a show college students will enjoy," said sophomore cast member, Sierra McCoy.
   The play will be run November 21-23 in the Montgomery Auditorium. "A Servant of Two Masters" will be directed by Dell McLain.
   The fall semesters show schedule will conclude with the Holiday Follies on December 6 and 7.
   Whether watching the shows or performing in them, the theatre department's plays are entertainment for any student or visitor on campus.
   Tickets can be purchased at the box office at the Visual and Performing Arts Center on First Street in the coming weeks. Adult tickets will be $8 while students and seniors tickets are $5.