Greek recruitment is here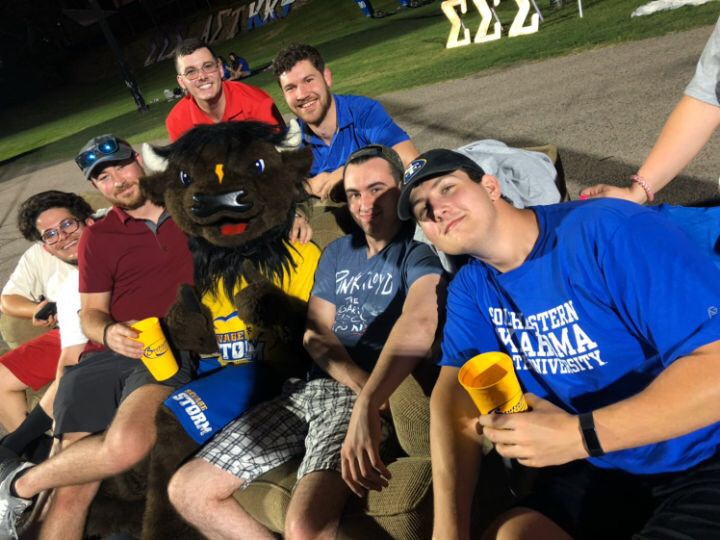 Nynnett Gonzalez, Staff Writer
September 9, 2019
The beginning of a new semester is always exciting and a chance for new opportunities. One opportunity that has been around for roughly 200 years is going Greek. Southeastern Oklahoma State University currently offers two fraternities and two sororities for interested students.
Mitchell Emberson, the Director of Student Activities and Greek Advisor, gave some advice to those wanting to join saying, "When selecting a chapter, I believe you should go with your gut and the group that you feel the most at home with." Going Greek offers opportunities to develop leadership skills such as running meetings and serving on committees.
Hunter Easley, President of Tau Kappa Epsilon, joined his brotherhood his freshman year in 2016. As his role in TKE evolved, he learned management, financial and social skills that he believes would not have been possible without TKE. Easley advised, "When selecting your perfect Greek organization, do not go for the badge, the cool letters or the social praise that you think you will get. Your perfect Greek organization experience will be enjoying the culture and being proud of the services and philanthropy that the fraternity can connect you to." By doing so, Easley believes this will allow recruiters to find a true fit alongside people that share their passion and drive.
The Tau Kappa Epsilon fraternity's motto is, "Better Men for a Better World." According to Easley, members of the fraternity are always striving to become better versions of themselves. Tau Kappa Epsilon is filled with a diverse array of young men and allows people from different walks of life to utilize  their skills in a way that shows direct results.
Ronnie Rickman, Director of Recruitment for Sigma Tau Gamma, said being in a fraternity has given him a group of guys who are striving for the same goals as him. "The relationships that I have been able to build through Sig Tau, at not just a local level, but a national level as well, are something I will forever be grateful for."
According to Rickman, Sigma Tau Gamma is different because of how committed they are to helping one another well beyond the halls of Southeastern. "The amount of support that is provided in our fraternity beats anything I have ever seen, and it is something that we all know we will have whenever we need it for the rest of our lives."
President of Alpha Sigma Tau sorority, Breanna Carswell, says being in a sorority has provided her networking opportunities with alumni, growth in leadership and public speaking. When choosing a sorority, Carswell says to keep in mind the mission and vision. Carswell rushed her freshman year of college in 2016. She said Alpha Sigma Tau's vision statement is what attracted her, "Alpha Sigma Tau empowers women to excel in life."
Carswell believes, "There are several things that set us apart from others, such as providing personal and professional growth through our member development programs that is like nothing else out there. Also, connecting to a national network of like-minded women who support you for life."
Nancy McCarley claims she grew as an individual and through leadership as Sigma Sigma Sigma president. "I was the person who sat in the back of the classroom, didn't talk and now I am the president of an organization. That has changed my life and will be a part of the rest of my life." McCarley became involved in Greek life because many of her friends were and she hasn't looked back since. "Stay open minded. Find something you are passionate about contributing to and how to get more involved," she said.
Above all, the members of these fraternities and sororities believe going Greek allows a large array of opportunities from networking to leadership development, but most importantly, friendship. It is the people that inspire them to come back every year and welcome new faces to their organizations. As put by Michael Lampton, Tau Kappa Epsilon alumnus, the people you meet could become your Panhellenic brothers and sisters.