Summer plans: student edition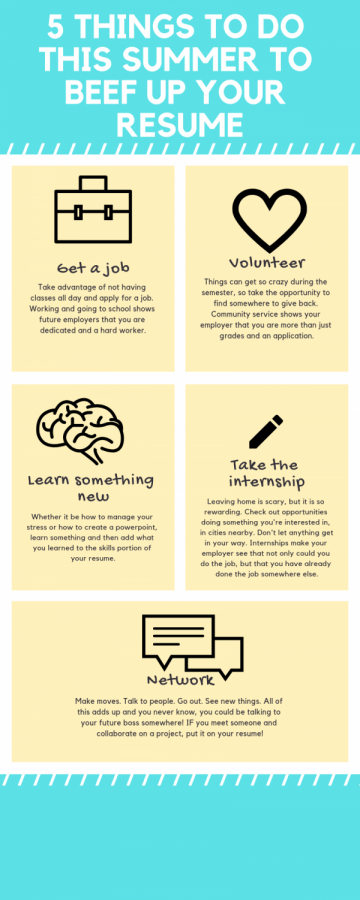 Kelsey Janway, Staff Writer
March 11, 2019
The countdown for summer vacation is on, and opportunities to have the best one yet are filling up fast. Sure, planning a cruise with best friends is a blast, but as a student, there are opportunities available that will not only look good on resumes, but that can be done together.
Through the Honors Program, students are eligible for a trip to Spain. Spending a portion of the summer submerged in a new culture will prove that there is a world outside of Bryan County, Oklahoma. Whether it be the arts, new foods or the sightseeing, students want to return to those places.
Ever wanted to go to Washington, D.C.? Through the United States House of Representatives, students can spend a portion of the summer serving in the United States Capitol. Through this, students will develop a stronger understanding of how things in the political realm operate, and also how to exist across the country in a different capacity. For some, this will be their first opportunity to live away from mom and dad. This internship will challenge students to be independent and to take on some adult responsibilities.
Whatever trip is planned for this summer, prepare to make it one full of opportunities for growth. These experiences make students a more conscious person by introducing them to a life they may not have otherwise experienced or known existed. Dillan Browne, a junior double accounting and finance major, went on a trip to Naples, Italy in 2018, and said his favorite part was the ice cream. "They have virtually no dairy restrictions there, so milk straight from the cow is made into ice cream." He added that the average height in Naples is 5'2″, so even though he is only 5'7″, he was, "tall for the first time in his life."
In addition to this, being abroad or interning over the summer makes for great additions to the resume. Employers want to see that applicants are diverse and have experience. Go on the trip, apply for the internship, come back to Southeastern, and bring someone up behind you to do the same thing.