Momentum builds as Durant competes in SBR
For the past few months, Durant has been working hard to make it as the city featured on season four of the Small Business Revolution. To the excitement of many citizens, the Small Business Revolution announced that Durant was chosen for the top six cities who are vying for the coveted spot.
There were only supposed to be five finalists, but Amanda Brinkman and Ty Pennington – hosts of the show aired on Hulu – said they could not pick just five. They instead chose six cities, putting Durant in the running for a $500,000 makeover.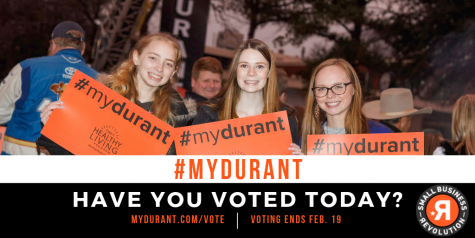 Janet Reed, the Executive Director of the Durant Area Chamber of Commerce, said winning would be exponentially exciting news. If selected to appear on the show, Durant businesses would apply to be chosen as featured businesses. "With the proceeds of $500,000 coming into those businesses which will be selected, it means that the economy of our community will definitely see an impact. With the additional match from REI it will mean a total of $1 million coming into our community," Reed said.
REI, formally known as Rural Enterprises of Oklahoma, Inc., is a company focused on improving the economic growth in Durant since 1982. They stated that they will match the $500,000 if Durant wins the season four spot.
Reed says that no matter if Durant wins or loses, the momentum gained on this journey will keep going. "If we are chosen, we will continue with plans for the Small Business Revolution Deluxe Team as they come to our city," she said,  "If we are not chosen then we will continue with the positive momentum that has already encompassed our community. There is no telling where we can go from this point."
Reed named Durant Main Street Director, Stephanie Gardner, as a crucial part to the progress Durant has made thus far saying, "Stephanie Gardner took a leap of faith when she turned in the paper work for the Small Business Revolution Season 4 competition."
Reed added that Gardner has done a great job at coordinating the community efforts. "I have every confidence in Stephanie's and other community leaders' ability to continue with this positive trend we are experiencing if we win or if we do not but, I also know we are in it to win it."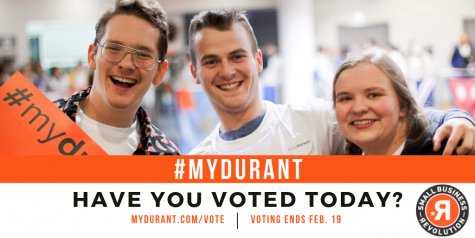 Local businesses are not the only Durant organizations that will benefit from winning the season four spot. B99.7 the Buzz disc jockey and Southeastern Oklahoma State University professor, Kristi Rothrock, says she could potentially narrate this season of the show if Durant wins.
Although it is not set in stone, Rothrock is ecstatic to even be considered for the narrator position. "I know the producers like my style and have asked to hear interviews of mine," she said, "There are a lot of talented voices here in Durant, and [the producers] could just decide that I smell funny, and go with someone else.  I'll be behind their decision either way."
Rothrock was born and raised in Durant. She says she has watched it grow, "from a place to get gas on I-75 to what it is today — a town that has so many ways to enrich the lives of the families and students that live here."
Voting for Small Business Revolution ends February 19 at 10 p.m. To vote, please visit www.MyDurant.com/vote