Take Back the Night
Nearly 50 students from Southeastern Oklahoma State University, including dozens of members of PLC, marched in "Take Back the Night" from Paul Laird Field to Market Square in downtown Durant in support of domestic violence victims on Monday, October 1.
Once students arrived at Market Square, they participated in a candlelight vigil meant to educate the public on what domestic violence looks like, as well as pay respect to victims and survivors.
Eileen Meadows, Victims Advocate and Outreach Advocate at the Crisis Control Center of Durant, began the ceremony and introduced Mayor Jerry Tomlinson.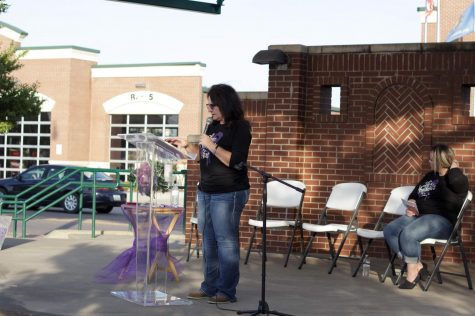 Tomlinson acknowledged how honored he was to be at this event, but also how sad he was that there is even a need for it. He read the City of Durant's Proclamation that October is domestic violence awareness month and that the city supports all efforts made in the prevention of domestic violence.
Tomlinson alluded to a movie he had seen in which a character said that, "love means never having to say that you're sorry." He disagreed with this and said, "If you truly love someone, you have to be able to say I'm sorry."
Meadows took the stage again to talk about how  things seem on the outside, may not reflect the domestic violence happening inside of a family. She read a Facebook post in which a domestic abuse survivor gave all the reasons that, "That's not love," and stated, "He is strong, but you are stronger."
Don Hyde, police chief of Calera, Oklahoma stated that, "Domestic violence is a preventable crime." He went on to ask the crowd if there were any valid reasons to strike a woman, or vice versa; no one raised their voice. Chief Hyde also encouraged the gentlemen of the crowd to take a stand and speak out against domestic violence.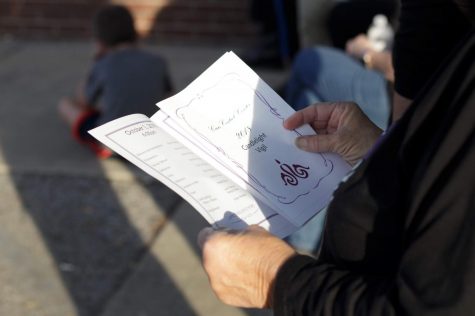 "A Little Bit Stronger" by Sara Evans was sang by the daughter of a Crisis Control Center advocate, a poem entitled "The Beauty and the Beast" was read, and a domestic violence survivor gave her testimony, thanking the Crisis Control Center for all their help.
Take Back the Night and the Candlelight Vigil came to a conclusion as the crowd lit candles and held a moment of silence in honor and remembrance of victims and their families who suffered such loss.