Homecoming activities scheduled for Oct. 11-13
DURANT, Okla. – Southeastern Oklahoma State University will celebrate Homecoming 2018 on October 11-13.
The traditional Homecoming parade is set for Thursday October 11, at 6:30 p.m.  in downtown Durant.  That evening's event will kick off the Homecoming festivities; following the parade there will be food trucks and a live band at Market Square presented by Durant Main Street for all Southeastern alumni and friends and the Durant community. This will be the second year in a row that Southeastern and Durant High School will hold a parade together.
Other traditional activities include the 32nd annual Whang Bang Alumni Golf Tournament on Friday, October 12, at Chickasaw Pointe.  Registration opens at 8 a.m. and a shotgun start is scheduled for 9 a.m.
The Distinguished Awards Banquet recognizing Distinguished Alumni and Distinguished Former Faculty is set for 5:30 p.m. Friday in the Visual and Performing Arts Center.
This year's Distinguished Alumni recipients are retired Col. Tray Ardese, Dr. Russell DeBose-Boyd, and Dr.  Barbara Rackley.
This year's Distinguished Former Faculty award honorees are Dr. Kenneth Chinn, Dr. Jane Elder, and Dr. Ken Elder.
The Homecoming Bonfire is scheduled for Friday at 8:30 p.m. in the Amphitheater on campus.
On Saturday, October 13, the Alumni Tailgate Party opens at 11 a.m. in Tailgate Alley across from Paul Laird Field.
Live music will be provided by The Arbuckle Xpress Band (11:15 a.m.) and Ty England (noon-1:30 p.m.).
Also on Saturday at 11 a.m., a 30th anniversary reunion of the 1988 Oklahoma Intercollegiate Conference championship football team will take place on the lawn of Bloomer Sullivan Gymnasium.
Southeastern's Savage Storm will kick off at 2 p.m. against Southern Arkansas University in the Homecoming football game at Paul Laird Field. During pre-game ceremonies on the field at 1:40 p.m., the Distinguished Alumni and Distinguished Former Faculty Award recipients will be introduced.
For more information and a complete list of homecoming activities, visit
About the Contributors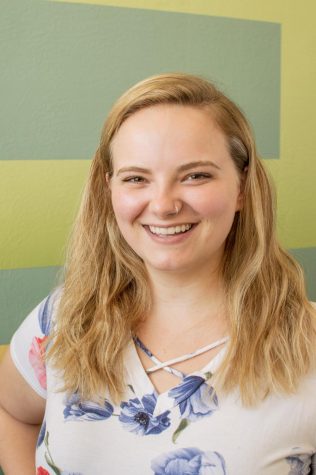 Megan McFarland,

Favorite Food: Chicken Express spicy chicken tenders
Favorite Book/Magazine: The Holisso
Dream Job: Cosmetic graphic design artist
Favorite...