Are kiosks and drive-thus disturbing fast food chains?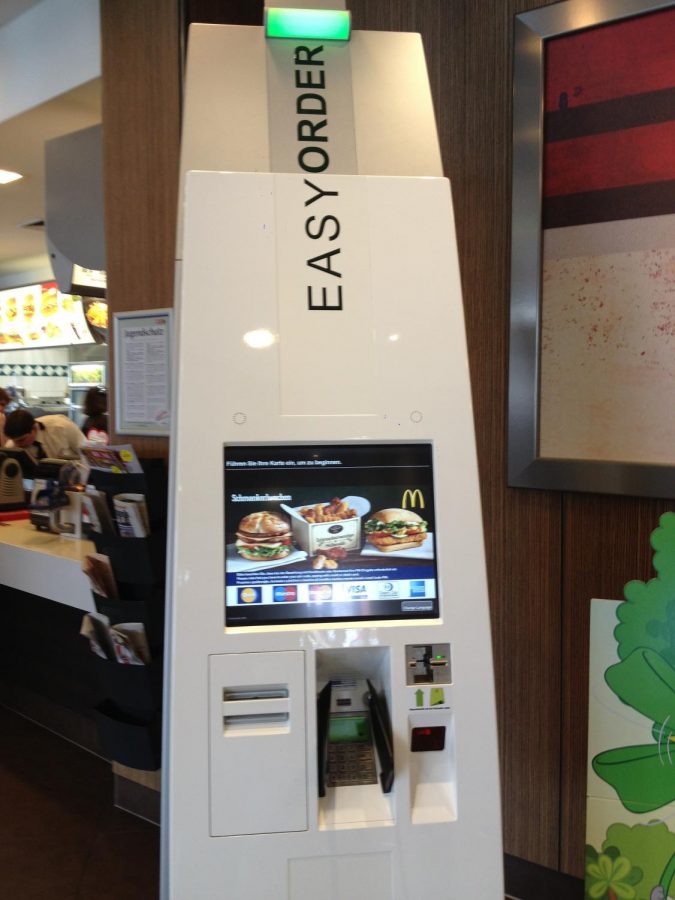 Shalene White, Staff Writer
September 18, 2018
Over the past couple of years, fast food restaurants have been adding ordering kiosks to the dine-ins, and double drive-thrus to the outside. The one restaurant taking the lead and placing in almost every city is McDonald's. The Daily Wire reported that by the year 2020, every single McDonald's will have kiosks in its lobby. Currently, 25% of all the restaurant's locations are already using the kiosks.
There have been a few questions floating around since the inauguration of the self-service machines. One glaring question for customers is, 'will it make the customer service worse?'
One customer, Mendy Good, does not care for the self-service machines. "It makes me feel like [McDonald's] is forcing me to use a machine. I like being welcomed and giving my order to a person."
Another concern for some is the speed of the drive-thru. Karista Cripe said she thinks the lanes are almost too fast. "The drive-thru used to be slow. Then, [McDonald's] added a second lane. Now, I'm through the entire process in five minutes or less. The worker in the window didn't even have time to smile. I'm not sure I like it."
Some of the employees are undecided on how they feel about the new additions to the restaurants. Storm Phillips said, "On one hand, it makes my job easier. On the other hand, it doesn't. The drive-thru is a two-person job, but sometimes, we don't have that extra person to assist. That is when it makes it harder."
Philips said she likes the kiosks because it gives her more time to focus on the customer service side of it, instead of worrying about the order. "I can pay more attention to the customer while I'm either showing them how to work the kiosk or bringing them their food. I also think it is more intimate when we bring the food to their table; makes them feel important."
Another question that has been lingering since the introduction of the kiosks is, "Will the machines replace workers?" McDonald's CEO Steve Easterbrook said in an interview that the labor will just change positions, not deplete out completely. "It may change the nature of the jobs in the restaurant, because frankly technology is something that our customers are embracing," Easterbrook said. "We can just reapportion that labor into more service orientated roles that we think the customer will benefit both ways," he continued.
Even Easterbrook thinks the new machines will help the employees focus more on customer service and less on taking the orders. Maybe it will take the employees a little time to adjust to the new process and start focusing on things that matter to the customer; like a smile or a thank you, instead on how fast they can get to the next customer.