Nike's Kaepernick campaign up in flames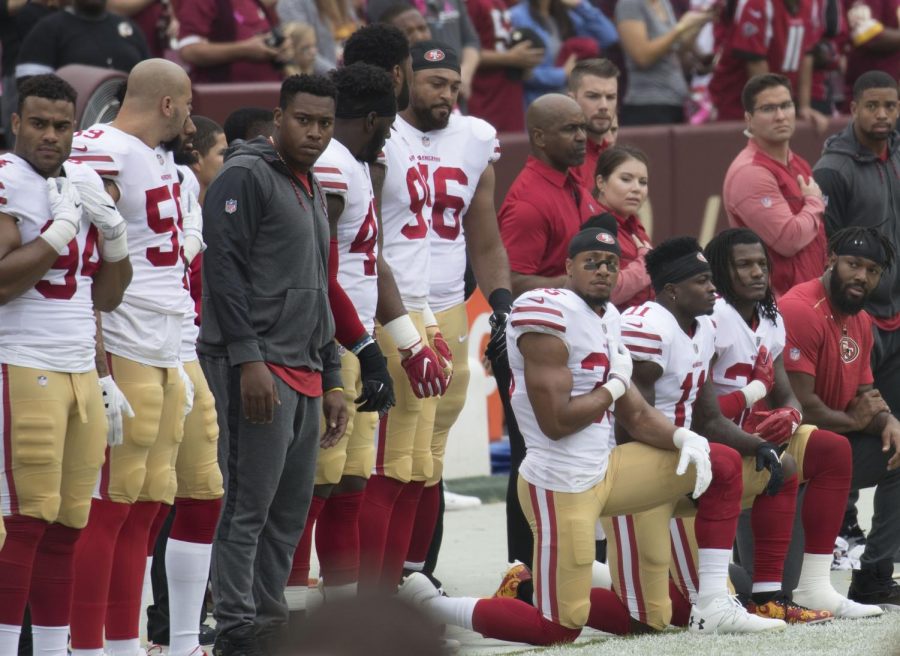 Derek Dophied, Staff Writer
September 17, 2018
Nike recently celebrated their 25thyear anniversary with a new ad campaign that features Colin Kaepernick along with the phrase, "Believe in something. Even if it means sacrificing everything." This decision has sparked controversy as supporters and protestors alike voice their opinions on Nike's decision to use Kaepernick as the face of their latest campaign.
Sophomore and O.I.L. member, Jonathan Meets, believes that Nike may be using Kaepernick's protests as a marketing exploit. Meets said, "I would have respected the choice of Nike more if they would have done it earlier at the height of his [Kaepernick] protest." Meets believes in every American citizen's right to protest and states that players kneeling during the national anthem does not deter him from watching the games.
Kaepernick is infamous for his protests, beginning in 2016, opposing police brutality against African Americans by choosing to kneel during each NFL game's ceremonial national anthem. Kaepernick's example created a movement amongst his fellow NFL players, as many other players chose to follow his example.
President Donald Trump was amongst Kaepernick's largest critiques as he has stated via twitter, "If a player wants the privilege of making millions of dollars in the NFL, or other leagues, he or she should not be allowed to disrespect our Great American Flag (or Country) and should stand for the National Anthem. If not, YOU'RE FIRED. Find something else to do!"
President Trump was not alone in his opposition to player protest, as many Americans chose to boycott the NFL in response to players' kneeling, including Vice President Mike Pence walking out during an Indianapolis Colts and San Francisco 49ers game in 2017.
Two years later, the controversy continues as many Americans are choosing to burn their Nike apparel in protest of the company's decision to hire Kaepernick as the new face for their campaign.
Broadcasting major and SE senior Jesse Risner believes that Nike's new campaign ad is bold, and wonderful. "I think that it was a good business move," says Risner, "I don't believe that Kaepernick is being disrespectful to the flag, or service men and women and I believe that Nike's new campaign ad helps get Kaepernick's message across.
With the 2018-2019 NFL season under way, the public will keep its eyes open to any new developments to this story.