Spring Break on a budget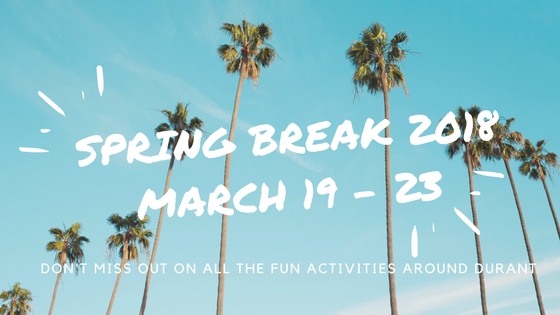 Anna Kelly, Staff Writer
March 9, 2018
Have you heard? Many SE students have been talking about it— Spring Break will be March 19th – 23rd!
For most college students, money is like a mythical creature that is never seen unless the stars align. Luckily for you, here is a list of cheap ideas to make your Spring Break memorable without much cash.
Visit Lake Texoma (free)
Go to Three Links in Deep Ellum on a Thursday Night for free live concerts (free)
Go to Bubba's Brewhouse in Durant on Wednesday night for open mic night (free)
Go yard sale/ thrift shop hunting (free)
Visit the Durant Public Library (free)
Volunteer at Families Feeding Families (free and rewarding)
Have a picnic at Rocket Park in Durant
Plan a board game night with friends (free)
Visit The Dictrict at Choctaw in Durant ($2 bowling on Sunday, $5 movies on Tuesday, half priced arcade gaming on Wednesday)
Plan a spa day at Lotus Nail with friends ($30-$90 depending on the services you want)
Use 'Air bnb' to book a room for a small get-a-way (Typically $30-$80/ night)
Fastrac's Dinner Cruise aboard Island Girl in Pottsboro, TX
Fill a child's pool with DIY slime or Orbeez and GET IN ($100-$200)
My best advice for bored, broke college students is to get creative. A water hose and a hole-poked balloon is a DIY sprinkler. The Dollar Tree is full of $1 craft ideas and our smartphones have millions of free entertainment applications available for download. It doesn't take a lot of money to have a good time; it just takes imagination and a few good friends.
About the Contributor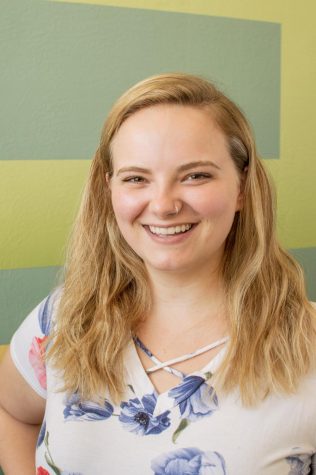 Megan McFarland,

Favorite Food: Chicken Express spicy chicken tenders
Favorite Book/Magazine: The Holisso
Dream Job: Cosmetic graphic design artist
Favorite...