The rivalry continues
The Savage Storm men's and women's basketball teams face ECU Tigers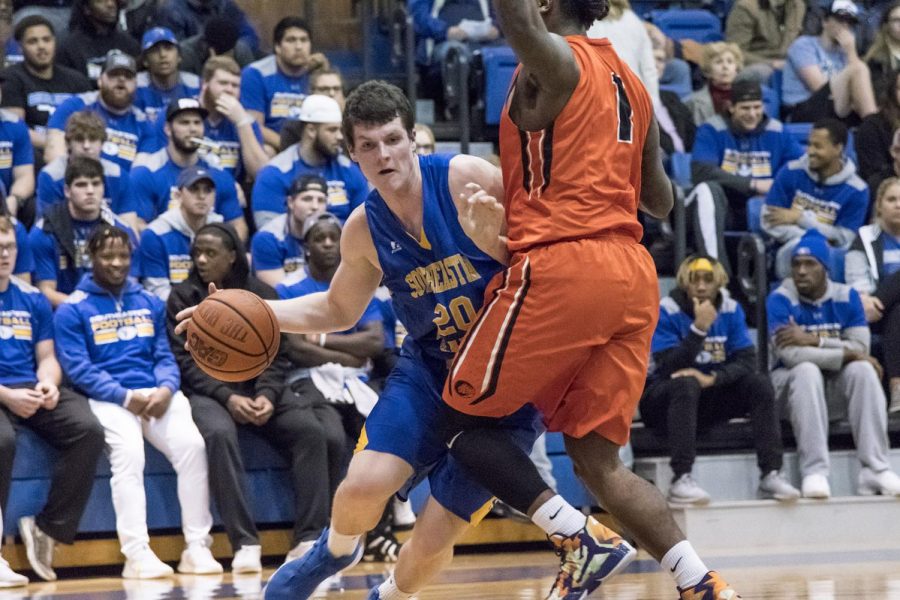 Ryan Perdue, Staff Writer
March 5, 2018
The longest standing regional university rivalry in the state of Oklahoma, dating back to the 1900's, continued on Tuesday, February 20 as the Southeastern men's and women's basketball teams took on East Central.
The women's contest consisted of back and forth action throughout the entire game. The first quarter contained efficient offensive play. The Savage Storm ended the quarter on top by one point with a score of 15-14. Both teams had success on the defensive side of the ball in the second quarter.
Neither team registered a basket for the first five minutes, the two teams then traded baskets until the end of the period came leaving the score tied at 21.
A motivated Southeastern team came out of the locker room with a different mentality. The defense stiffened and East Central struggled to put the ball in the basket. The Storm looked cohesive on both ends of the floor opening up the third quarter.
The Storm was fluid in their defensive rotations smothering the East Central ball handlers. On offense they moved the ball effectively amongst each other clicking on all cylinders.
The entire quarter was a 13-4 run in favor of the Storm which gave them a 34-25 lead heading into the fourth quarter. The final quarter was high scoring for both teams.
The Storm maintained control of the game throughout the entire quarter, capturing their 12th win of the season. Courtney Brady led the way with 12 points, shooting 50 percent from the field, followed by Katie Branam who shot 57 percent from the field. Post player Emem David registered 8 points while hauling in a big 10 rebounds.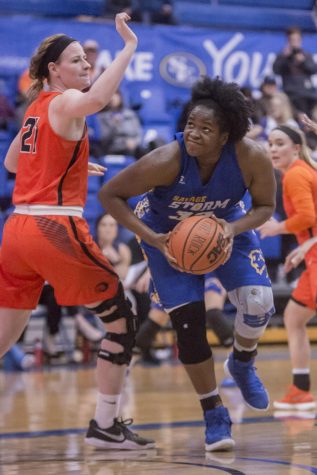 Both the Southeastern and East Central men's team came into the game with an overall record of 14-10, but the Storm held a two game lead in conference play.
The game was electric from the start, both teams filling it up offensively with exciting plays.
East Central came out hot from three going 9-15. The margin got wider until the Storm made a run of their own led by senior guard, Markell Henderson, who had several momentum shifting plays on both ends of the court.
Henderson ended the half with 17 points, bringing Southeastern within 9 points of ECU.
The Storm kept the game close at the beginning of the second half until a barrage of East Central threes widened the margin too far for Southeastern to close.
The Storm was led by Markell Henderson with 29 points who shot a staggering 64 percent from the field. Kevin Buckingham chipped in 16 and guard, Adam Dworsky had nine assists.