Southeastern baseball legacy
Senior Cade Clay follows a family tradition by playing baseball at Southeastern
Ryan Perdue, Staff Writer
March 5, 2018
Cade Clay is a five-eleven, one hundred eighty-five-pounds, and a key component to the Southeastern baseball team.
This is the start of Clay's third and final season at Southeastern as this is also his senior year. He was recruited back to SE by former coach Ryan Bowen, who was the assistant coach Clay's freshman year at SE. Clay was ensured he would have an opportunity to showcase his skills and contribute to the team right away. However, this was not the only factor that swayed Clay into rejoining the Savage Storm; his family has deep ties with the program.
His father Michael Clay and uncle Randall Clay were both All Americans for the team in the past. They were in Clay's ear about the program and its history.
"They both had good things to say about Southeastern and the baseball program that made me want to come play here," said Clay.  "Not a lot of people get the opportunity to play where their family did."
The club has held on to a lot of their winning traditions from previous years and still incorporates them into the program today. He was captivated by all of this; the history, the All American traditions and the way they are able to use them to the teams benefit.
As Clay was deciding where he would attend school for his final two seasons, he had many things to take into consideration, including his now four-year-old son Layker. Southeastern was the closest to his hometown, Rattan, Okla., which made it possible to be within a close proximity to family.
Considering all of these circumstances, Cade decided it would be best to close out his collegiate career with the Savage Storm.
This is Clay's third year with the team after playing for Eastern Oklahoma State College and East Central University.
He was plugged into the lineup immediately. He started all forty-six games last season and also led the team in plate appearances.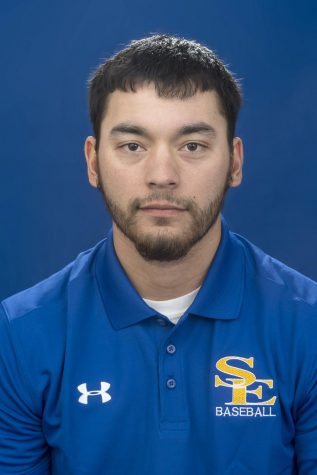 Dan Hoke
Clay has been manning the designated hitter position in the lineup offensively. On the defense side of things, he rotates between the two middle infield positions.
This season his focus has been at the plate as he has been the designated hitter in all seven contests thus far. However, individual performance is not the main focus for Clay.
He emphasized a selfless team-first concept as he said, "To me it's not about what I do, but what we can do together as a team."
Clay believes this team is special. Although he doesn't notice much difference between this year's team and past teams, he said, "There have been a lot of talented teams in the past and this year we are just as talented." He continued saying, "This year's team has a chance to spark a new and improved beginning for the future program here at Southeastern."
He firmly believes this team has what it takes to not only win a conference championship, but a regional one as well. Those wins ultimately advance the team to a world series, placing them in position to capture a national championship.