Christmas tradition continues at Southeastern
Hang on for a minute...we're trying to find some more stories you might like.
Despite the dark and gloomy weather Southeastern Christmas traditions began on Monday, Dec 4 with a gathering at the President's House for food. The Southeastern Band played Christmas carols as faculty and staff enjoyed refreshments provided by the University.
With rain pouring down, the Christmas tree was lit and the Southeastern tradition lived on.
The night ended with the 96th annual Candle lighting ceremony at 7:30 p.m. in Montgomery Auditorium.
This event was free and open to the public and is one of the longest continuing traditions on campus. The Candlelighting is a festive concert presented by the Department of Music.
The candles were lit by members of the Cardinal Key Honor Society, who walked gracefully down the auditorium aisles in black dresses.
The long-standing Candlelighting tradition continued with new performers and joyful Christmas carols.
The auditorium was nicely put together and welcoming. Despite the wet weather the audience was still in the Christmas spirit to sing along to the Christmas carols.
The "Sing with Us" part of the night was led by student conductors, Georgia Mulkey, Courtney Miles, Kristen Simpson and Chelsea Dixon.
They conducted the crowd through songs like "Chestnuts Roasting on an Open Fire," "Oh, the weather Outside is Frightful," and "Angels We have Heard on High."
The entertainment was cheerful at the Candlelighting; the performers included the SHARE Children's Chorus, Jeri Walker, Jourdan Howell, Grace Haynes, Allyson Thomas, Haley Moore, Jeremy Blackwood, Illuminato Baroque Orchestra, Stephanie Emberley, Joshua Nannestad and the SOSU Symphonic Chorus.
About the Contributor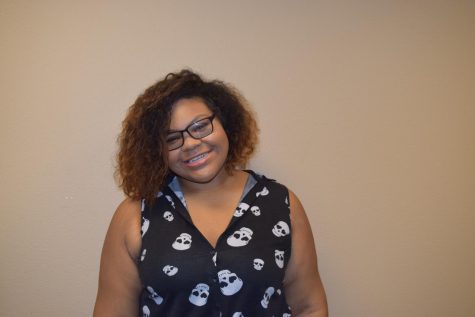 Jerai Billy, Staff Writer
Favorite food: Chicken Alfredo
Favorite book/magazine: Man's search for meaning
Dream job: Rich people person
Favorite movie: P.H.A.T. Girls
Currently watching: Nothing…
Music of choice: Anything and everything really. Right now, it's Rob Zombie.
Jerai is a Communication major (emphasis in Advertising/Public relations) and a minor in journalism who has been a member of the SE Student Publications since Fall 2016. She has served as staff writer. When not working on The Southeastern, Jerai enjoys chilling with her friends and being involved on campus. This year, she looks forward to meeting more people and doing more on campus.