Southeastern partners to mentor kids in OJA program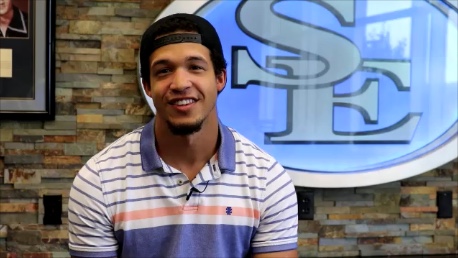 DURANT, Okla. – Mentoring comes in many forms, but all with the same goal — investing in someone and doing all that is possible to ensure they reach their maximum potential. While most people can recall a mentor in their past who has encouraged them to keep going, work harder or simply to believe in themselves, not all take the time to give back by mentoring others.
Through a partnership with Southeastern Oklahoma State University, youth who are involved with the Oklahoma Office of Juvenile Affairs (OJA) in Bryan County will be paired with student athletes serving as mentors for a semester. The program
launched October 31 and already includes four mentors and five kids.
The OJA provides intake, supervision, probation, custody, parole and reintegration services to at-risk youth in the State of Oklahoma.
Kheri Smith is a Juvenile Justice Specialist in Bryan County and she is a tireless advocate for guiding youth through the continuum of care with OJA. She sees mentorship as a catalyst for positive change.
"The program will provide encouragement and support for at-risk youth in the community by offering positive role models," said Smith. "I hope our kids will be inspired to finish school, pursue postsecondary education and start thinking about their future."
Kids will gain insight and perspective from mentors who are close in age but whose experience in working toward their vision and achieving their goals offers examples for a path forward.
"The mentoring program is the most rewarding thing I've ever participated in," said Shane Dixon, a Southeastern football player participating in the program. "Everyone involved goes above and beyond for these kids, and I enjoy seeing them grow. I hope I can impact these kids' lives as much as they have mine."
Southeastern football coach Bo Atterberry has championed the idea from the beginning, and sees it as beneficial for everyone involved. "We stress to our student athletes the importance of being a role model in the community,'' said Atterberry. "They need to understand that they can make a positive difference in a young person's life. This program is a great example of a win-win partnership – our student athletes also benefit from this type of one-on-one interaction.''
The partnership provides an opportunity for bringing together members of the community in support of something greater than themselves. It generates an investment of time and energy that produces real and immediate benefits.
"Community service is a point of emphasis at the University,'' said Southeastern president Sean Burrage. "Every year, when I speak to students at freshman orientation, I encourage them to get involved in activities outside the classroom, not only on campus, but in the community. I am very pleased to see our student athletes partnering with the Office of Juvenile Affairs. We think this is a program that has tremendous potential for growth in the future and are glad to be involved.''
For more information on the mentorship program, please contact Kheri Smith at 580-924-8432 or [email protected]
About Oklahoma Office of Juvenile Affairs
The Office of Juvenile Affairs is a state agency entrusted by the people of Oklahoma to provide professional prevention, education, and treatment services as well as secure facilities for juveniles in order to promote public safety and reduce juvenile delinquency.