Native American Heritage Day
KateLeigh Wright, Staff Writer
November 30, 2017
In honor of their culture Native Americans host a holiday, "Native American Heritage Day" the day after Thanksgiving in the United States.
The Native American Heritage Day Bill became official in November of 2008. The specified day federally recognizes tribes and pays a tribute to the Native American society for their many contributions to the United States.
Southeastern's Native American Student Association hosted an event honoring Native American Heritage Day on Monday, Nov. 20.
Southeastern sophomore, Faithlyn Seawright, is a Choctaw and said she, "learned more about the history and culture of the Choctaw bloodline."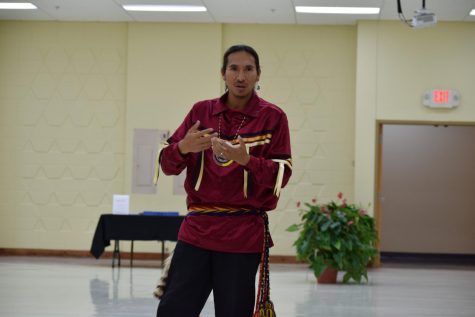 Brenner Billy, host speaker for the history and cultural learning of Choctaw, is a cultural trainer in the Learning and Development Department for the Choctaw Nation. He was a speaker at the event.
Billy expressed the importance of a time dedicated to learning and teaching in native environment.  "It is everything I lived growing up and I am still learning about the culture and myself. My ancestors have given me support of my people and I hope that I am doing a great job that will honor them of the past. Hopefully, laying foundation for the future generations because it is part of our tradition," he said.
"My favorite part of the day was seeing the Native American students are growing and expressing the culture of their tribe and sharing that culture with the people and community around them," Billy said.
Staff member at Southeastern Oklahoma State University, Kay Barber, was also among the group of people learning about the Native American heritage. "Brenner Billy taught me a better understanding of the knowledge I had in concern to the Native Americans and the Choctaw culture," Barber said
"I have much respect and want to continue to learn more and more," stated Barber.
It is essential to gain knowledge about the world around you, but most importantly, to learn about the people around you. Some people in younger generations  think a few of the old traditions feel like chores. Billy said, "If we teach the purpose of what we are doing, they will understand the need for the tradition and respect. If you do not have a purpose, you do not have a plan.