SOSU volleyball falls short of victory during homecoming week.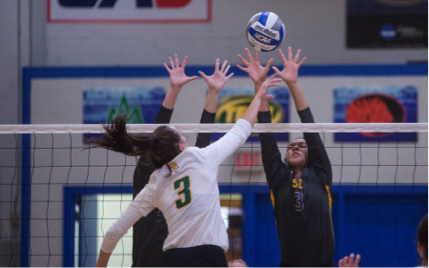 KateLeigh Wright, Staff Writer
October 16, 2017
The Southeastern Volleyball Team held a promising lead against Texas A&M Commerce on Tuesday, Oct. 2. In the beginning, SOSU was points ahead. However, Texas A&M Commerce came back to win the first three sets of the game. SOSU volleyball lost the game.
Nonetheless, Southeastern Oklahoma State University's volleyball team still made great moves. Abby Jameson, number two, and Jodi Dixon, number sixteen, were the dynamic duo Tuesday night. The two played well off each other. Dixon hitting the ball up and Jameson spiking the ball over the net. All in all, SOSU volleyball rallied until the end of the game.
The SOSU volleyball team came out strong on Friday night, Oct. 6 against Harding University. The Savage Storm was behind in the first set of the game. The two teams seemed to be playing a game of cat and mouse during the first set. Harding University won the first set of the game and Southeastern won the second set of the game.
During the second set, something had sparked inside the girls. They had a visible passion to win the set. Arianna Baker, Grace Shehadeh, and Abby Jameson were caught having a stare down during a serve by a Harding University player. In the end, however, Harding won the third and fourth set, meaning another loss for Southeastern volleyball.
Early Saturday morning, Southeastern played Arkansas Tech University. Southeastern became the first Great American Conference team to win a set from Arkansas Tech University. SOSU and ATU played a back-and-forth game until Arkansas Tech took the lead and won the set 25-20. Arkansas Tech won the second set, but Southeastern had the momentum and won the third set. Unfortunately, the Storm lost the fourth set 25-17.