Athletic Platforms Misused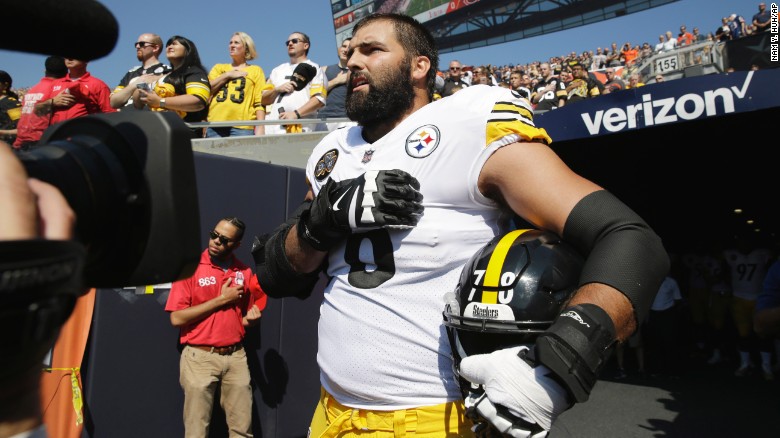 Brad Erwin, Staff Writer
October 11, 2017
On Sept. 24, the NFL held a league wide protest taking a knee before or during the National Anthem to signify unity. During the protest, Jacksonville and Carolina were playing in London where the players kneeled for the National Anthem but stood for God Save the Queen Great Britain's national anthem.
I would never take a knee or sit down while the National Anthem was being played as I feel it is a symbol for the real heroes in the United States, the ones who protect and have died to give U.S. citizens their god given rights that allow them to kneel or stand during the anthem.
The NFL kneeling for the anthem was started by Colin Kaepernick during the 2016 preseason. In a interview with mercurynews, he said "Yes. I'll continue to sit. I'm going to stand with the people that are being oppressed. To me this is something that has to change and when there's significant change and I feel like that flag represents what it's supposed to represent in this country–is representing the way that it's supposed to–I'll stand."
Kaepernick directly stated his protest is against the flag, not shocking seeing as he is also a communist sympathizer. Now the entire NFL is kneeling in the name of unity.
This began as a protest against police brutality, changed to a protest against racial injustice, and now is about unity.It seems like the NFL and Kaepernick do not look very unified on their goals of kneeling during the anthem.
Picking this symbol as a way to protest was not the way to push for a change for something these players believe is going on. They have huge platforms of reporters itching to write down their every word.
Also, the amount of wealth that the American system has set up for these athletes to accumulate could be used to further a cause, and would get them much further than complaining about how unjust and oppressed they are with their millions of dollars and enormous platforms.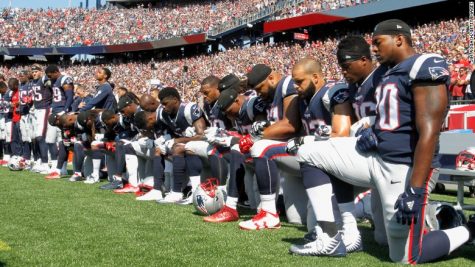 An example of how egregious this has become is ex-Army Ranger Alejandro Villanueva. Villanueva is a real hero, one that has earned the "Bronze Star Medal for Valor, the Ranger Tab, the Parachutist Badge, the Bronze Star Medal for overseas service, National Defense Service Medal, Afghanistan Campaign Medal with Campaign Star, Global War on Terrorism Service Ribbon, Army Service Ribbon, Overseas Service Ribbon, NATO Medal, Combat Infantryman's Badge and Expert Infantryman's Badge." according to CBS.
Villanueva was the only player for the Steelers that, not only stood and held his hand over his heart, but even came to the field during the anthem. Shocking backlash in the Steelers team made Villanueva, an American hero, come out publicly and apologized for honoring and showing respect to his nation.
Villanueva, you have nothing to apologize for. You are what makes America the greatest country in the world and you did not make your team look bad. Your team has failed you and the entire NFL has failed the attempt at any viable solution for its reasons for disrespecting America.