Southeastern celebrates spectacular Homecoming with spectacular football comeback
DURANT, Okla. – Austin Skinner's 63-yard touchdown pass to Drake White provided a happy ending to a three-day homecoming celebration Saturday afternoon at Southeastern Oklahoma State University.
Skinner's pass – with just 25 seconds remaining on the clock — lifted the undefeated Savage Storm to a come-from-behind 31-24 victory over Southwestern Oklahoma. Heading into the Oct. 14 game against Henderson State, the 6-0 Savage Storm are nationally ranked and in sole possession of first place in the Great American Conference.
During halftime festivities, Katie Webb of Melissa, Texas, was crowned Homecoming Queen, and Tristin Lackey of Coleman, Oklahoma, was named Homecoming King. Nate Hodson from Durant earned the title of Big Man on Campus.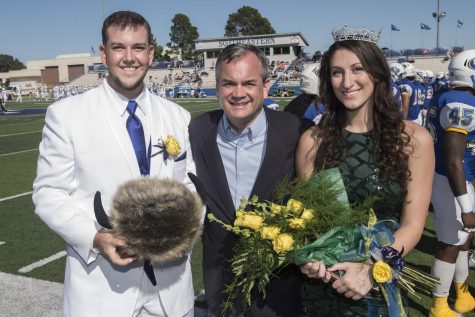 The fun-filled homecoming celebration was over three days (Oct. 5-7).
One notable change in the schedule this year was the traditional Saturday Homecoming parade was moved to Thursday night in downtown Durant.  Durant High School was also celebrating homecoming last week and the two schools collaborated on one big parade.
Traditional activities included the 31st annual Whang Bang Alumni Golf Tournament on Friday at Chickasaw Pointe.
The Distinguished Awards Banquet recognizing Distinguished Alumni, Former Faculty and the Benefactor honoree was held Friday night in the Visual and Performing Arts Center.
This year's Distinguished Alumni honorees were Joy Culbreath, Director of Education Special Projects for The Choctaw Nation of Oklahoma; Charles McCall, Sr., owner of AmeriState Bank, an Oklahoma Banking corporation, and the AtokaState Bancorporation; and Mark Hughes, civil war historian/author.
This year's Distinguished Former Faculty award went to  Dr. Jerry Polson.
The Benefactor Award was presented to Dr. James O. Young and the Young family.