State Senate presents citation to SEOSU Coach Mike Metheny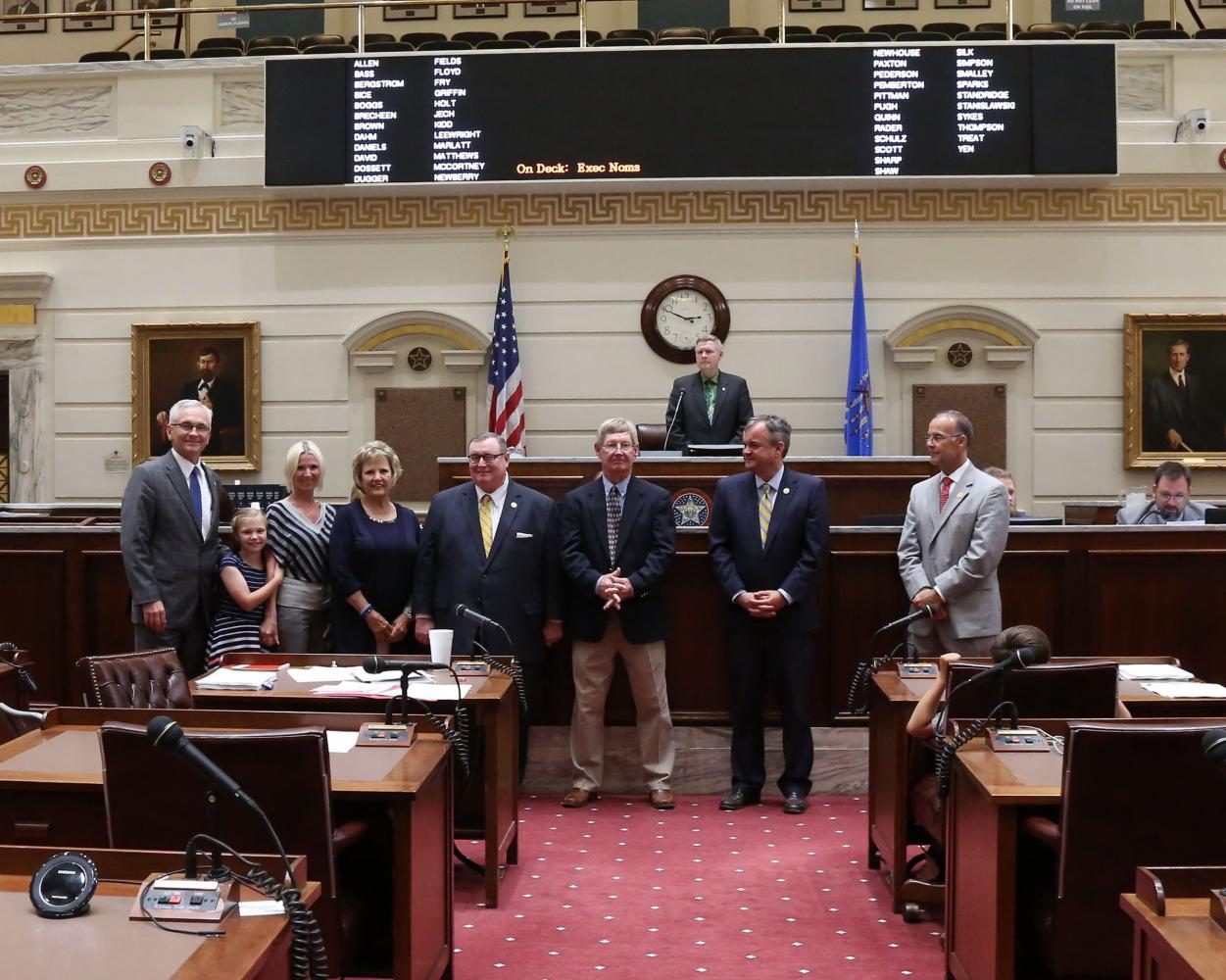 Oklahoma State Senate Communications Division
May 25, 2017
OKLAHOMA CITY – Southeastern Oklahoma State University head baseball coach Mike Metheny was recognized May 9 with a citation on the State Senate floor for being named the NCAA Division II All-Time winningest coach, according to State Senator Darcy Jech. 
Jech, who is a former Southeastern baseball player who played for Metheny while in college, presented the citation.   As Metheny was welcomed by legislators, he was joined by his wife Pat, his daughter Mishael and granddaughter Raini, as well as Chancellor of Higher Education Glen D. Johnson, SEOSU President Sean Burrage and Athletic Director Keith Baxter. 
"It was truly an honor to be in the Oklahoma Senate to receive a citation on behalf of our Southeastern Oklahoma State University baseball family," said Metheny, "I especially want to thank Darcy Jech, a former Southeastern baseball player, for creating this special honor.  I also want to thank the state and community leaders, as well as my own family, friends and former players who have made these past 37 years a tremendous experience." 
Jech, R- Kingfisher said it was a pleasure to celebrate the accomplishments of his former baseball coach and mentor at the Capitol last week.
"It was an honor to have the opportunity to recognize and congratulate Coach Metheny in the Senate," said Jech.  "The ripple effect of his leadership, talent and dedication can be seen throughout the state and in his current and former players.  He has been a shining example for many and remains an inspiration to the baseball family."
Metheny's place in coaching history was secured this spring when Southeastern collected a 9-1 win over Harding in the series opener on March 31, marking the NCAA Division II's record-setting 1,315th win before following it up with a 5-4 victory in the nightcap at The Ballpark in Durant.  Metheny finished the season with 1,324 career victories across from 679 losses and three ties to push his career winning percentage to .660 over 37 seasons, averaging just over 35 wins per season.
After topping the list for active coaches a season ago, he now leads both lists and passes Joe Roberts of Armstrong State, who previously had 1,314 wins after retiring following the 2013 season. Metheny also moves into the top 20 on the all-time wins list regardless of division, climbing to 19th on the list and is seven wins behind Larry Cochell who has 1,331 after finishing his career in 2005 as the head coach at the University of Oklahoma.