Symphonic Winds concert featured guest artists and Southeastern students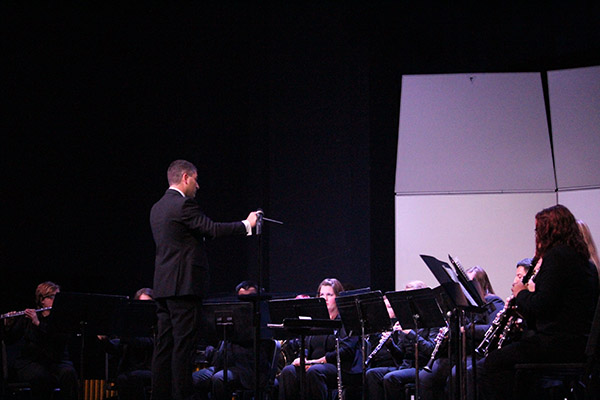 Hang on for a minute...we're trying to find some more stories you might like.
The Southeastern Oklahoma State University department of music held a symphonic wind ensemble concert in the Montgomery auditorium on Wednesday, Nov. 16. The concert featured musical pieces played by many different musicians including Southeastern students and guest artists. The concert was conducted by Dr. Michael Scheuerman and the band performed music by Frank Ticheli, Eric Whitacre and John Phillip Sousa.
Erin Anderson is a freelance musician from Dallas, Texas who plays with the Lone Star Wind Orchestra. Anderson played with the ensemble in the concert, Wednesday. "I absolutely love playing here it is such a great venue," Anderson said. Anderson and many others traveled from places like Oklahoma City and Dallas to perform.
James Carter, a senior at SOSU who played in the ensemble, believed the concert was an amazing event and a huge success. "We are playing some contemporary orchestra music that will start out somewhat slow but will end with a huge bang," said Carter before the performance. The performance did just that starting slow with Gliding Girl by John Phillip Sousa and ending loudly with Vesuvius by Frank Ticheli.