SE rodeo had success at their hometown rodeo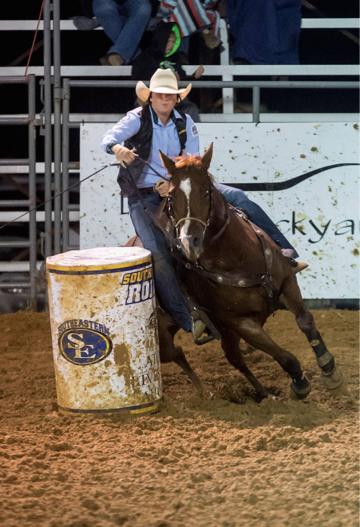 Brittney Barr, Staff Writer
October 11, 2016
The Southeastern Rodeo Team held their hometown college rodeo October 6 to 8. Twelve rodeo teams from across Oklahoma and Kansas made their way to Durant for the second college rodeo of the season.
The Southeastern Rodeo team had almost a picture perfect ending to their hometown rodeo. The women's team took home first place while the men's team came in reserve for the weekend. These placings moved the women's team to a first place spot in the Central Plains Region standings while the men's team moved to second.
The Savage Storm team had a big win with both women's and men's all around champions were apart of the hometown team.
Shelby Whiting seems to be settling into the Southeastern rodeo team after her move from Garden City, Kansas. Whiting qualified for the short round in all three of her events, goat tying, breakaway roping and barrel racing.
She took home the championship title in the goat tying and breakaway roping, while finishing fifth in the barrel racing. She was the women's all around champion.
Sophomore, Wyatt Muggli took home the men's all around championship for Southeastern. He was able to secure a second place finish in the team roping with partner, Payton Holiday from Panhandle State University. He was also able to finish sixth in the tie down roping to secure his spot as the all around cowboy.
Southeastern's tough string of goat tiers helped bring home the team win. Along with Whiting, teammates ShiAnn Henderson, Kylee Bennett and Lainey Cooper made the short round in the goat tying and each had a strong showing for SE.
In breakaway roping, Whiting was followed by teammates Kylee Bennet and Kasidy Rasberry to make the short go and help secure a women's team win.
Junior, Cierra Chapman, led the Southeastern barrel racers when she won the long and also won the average in the barrel racing.
While Muggli was the big winner for the SE rodeo team, there were others that were not far behind. SE veterans, Brody Braden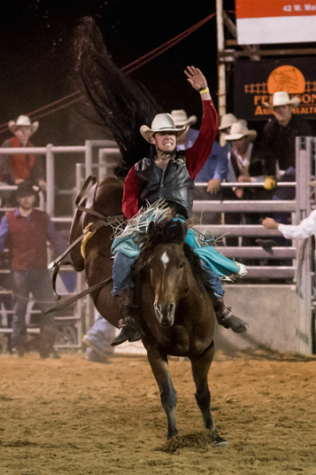 and Kolton White finished third in the team roping with plans to have another trip to the College National Finals in June.
Denver Berry is no stranger to the short round in the bulldogging, finishing second for the weekend. Wyatt Rogers also came out with a second place win in the bull riding for the weekend.
SE saddle bronc riders also had a good showing with Cole Pacheco finishing third and teammate Tyler Miles splitting fifth and sixth.
Freshman Trey Thomas also qualified for the short go in the bareback riding, but was bucked off to be taken out of the average.
Coach Braudrick is very pleased with how the hometown rodeo turned out and hopes to have many more team wins in the future. The Savage Storm rodeo hopes to continue their winning streak as the head to Oklahoma State University in Stillwater, October 20-22.