Must see sights in Paris, France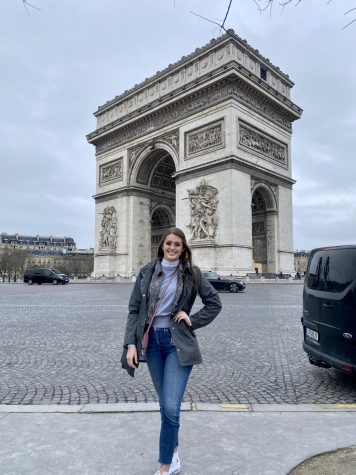 It is truly a dream to walk up to the Eiffel Tower and look up at it. It is also a dream to explore France and learn about all of its rich history. I had an amazing experience traveling with Southeastern Oklahoma State University and EF College Study Tours, so I am here to tell you all the must-see places to visit when you head to Paris, France, known for being the City of Love and the City of Light.
First stop is the most famous and visited place in France: The Eiffel Tower. Check it out both during the day and the night. At nighttime, for five minutes of every hour, it sparkles and glistens. It is a very beautiful sight to see and gives you the complete feeling and sense as to why the city is named after love and light.
Next, Arch de Triumph. Just make sure to not cross the street over to it. There is very busy traffic happening all around it. This structure is known to be used during Napoleon's reign. It was a symbol of power and back in the day it was a gate into Paris, France. The farmers would come to sell their goods and this was the tax stop.
Then head over to the Le Pont des Arts bridge with the Louvre close by. Go take a walking model picture then head into the Louvre to take a selfie with Mona. I am referring to the most famous painting in the world, the Mona Lisa. Then I recommend choosing one other section to explore that sparks your interest. I chose to explore the Queen's jewels.
While in Paris, shopping is a must do. For high end and name brand designers, head to The Champs-Élysées. If you are on a budget like I am, the Latin Quarter is the best place. I got my Easter dress here for 12 Euros! Not only was it from a French boutique, but it was the best to come back to America and people compliment my dress and I get to say "I got it in Paris." Point being, go to the little boutiques that are owned by Parisians and buy you something unique to wear from Paris, France. Also, the Latin Quarter has a ton of bars, cafes, and souvenir shops. Take a couple of hours to get lost within the streets here.
You cannot visit Paris, France without eating good food! There are cafes and bakeries on every corner. I recommend a bakery for lunch. Grab a sandwich and pastry and find a place outside to sit and people watch. Then for dinner, visit a little cafe and get the full French eating experience. My favorite lunch in France was an oven baked pizza with tiramisu. The pizza had a huge dollop of fresh mozzarella cheese and the dessert was homemade. Bon Appetite! My favorite dinner in France was at a restaurant that served a three-course meal. I had onion soup, beef with a cheesy potato cake and green beans, and crème brulee. Then, of course, a few glasses of wine.
Lastly, make a stop at Sainte-Chapelle. This is an old, gothic style cathedral. Your breath will be taken away when you step inside. It is so beautiful and you can feel the presence of God. The stained-glass windows tell every Bible story. There are statues of the disciples all along the walls and the details are magnificent. This is a must see!
Overall, anything you see in Paris, France will be a dream. These are just a few of the places and attractions I visited while abroad. I think they are touristy but the best way to get a full French experience. Best travels to you!