Don't miss the Springfest fun
This week is Springfest at Southeastern Oklahoma State University.
Springfest kicks off today, April 4. The Office of Student Life will host Lunch on the Lawn from 11 a.m. to 2 p.m. on the front lawn of the Morrison Building. Picnic tables will be set up for students to enjoy a free lunch and jam out to music while getting fresh air. Activities like rock wall climbing and an inflatable obstacle course will be offered. If the weather takes a turn for the worst, Lunch on the Lawn, as well as rock climbing and the obstacle course, will be moved to the student union.
This evening, Southeastern's annual talent show, Storm's Got Talent, will be held at the Amphitheatre from 7 p.m. to 8 p.m. The event will be hosted by the Black Student Association. Admission is free and BSA president Donald Broadnax, Jr. encourages students to attend. "During the show we will be doing fun activities between sets for people in attendance to compete for giveaways," said Broadnax. "We will also have a food truck present with limited free meals."
On Tuesday, the Oklahoma Blood Institute (OBI) will be on campus for a blood drive. The Bloodmobile will be parked in the loop between the Morrison Building and the Fine Arts building. Anyone in the Bryan County community can donate from 9:30 a.m. to 4:30 p.m.
Also on Tuesday, Crystal Robinson, a former Southeastern athlete who became a Women's National Basketball Association player, will visit campus. Robinson, now a coach for the Phoenix Mercury WNBA team, will be at Einstein Bros. Bagels for a meet and greet from 9 a.m. to 10 a.m. At 2 p.m. Robinson will host a book signing at the softball field during the game against East Central University. The first 75 people to attend the book signing will receive a free, autographed copy of Robinson's book, Finding Myself. Food trucks will be available for concessions during the game.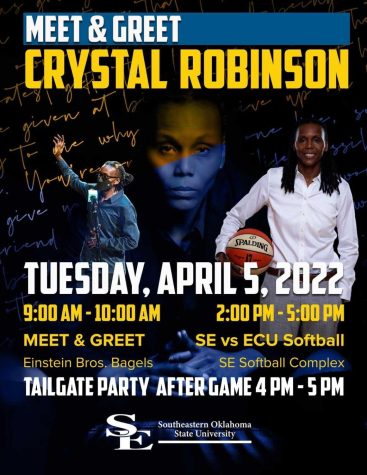 By Office of Student Life
Once the softball game is over, an afterparty tailgate will begin at 4 p.m. There will be free hotdogs and more. At 5 p.m., a Wiffle Ball Tournament will begin on the softball field. This tournament is open to all students, faculty and staff. No pre-registration is required, but teams can register beforehand using the link in the Office of Student Life's Instagram bio @SE.OSL. Students who participate will have multiple opportunities to win a free Springfest t-shirt.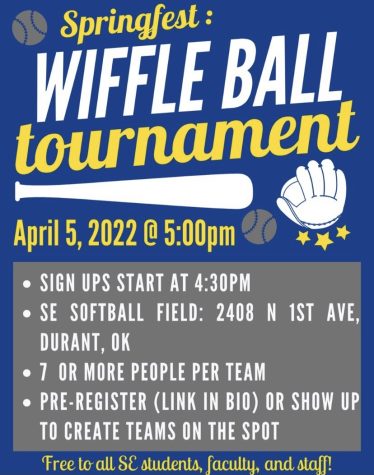 On Wednesday, the OBI will host another blood drive. This event will be from 9:30 a.m. to 4:30 p.m. The Bloodmobile will be in the same location as the day before.
On Wednesday evening, there will be a Mud Volleyball Tournament at 6 p.m., hosted by the Office of Student Life. The mud volleyball pit is located on campus, across the street from Mike Metheny Field. There will be free food and students, faculty and staff are all welcome to attend. Pre-registration is not required and teams can be formed at the event.
Springfest will conclude on Thursday with the long-awaited Winter Ball, hosted by the Student Government Association. After being postponed twice, the event will be held from 8 p.m. to 10 p.m. in the Hallie McKinney Building. Students are asked to dress in formal attire.
For more information about Springfest, contact Mitchell Emberson, Director of Student Life, at [email protected]