First meeting of the President's Club to be held Thursday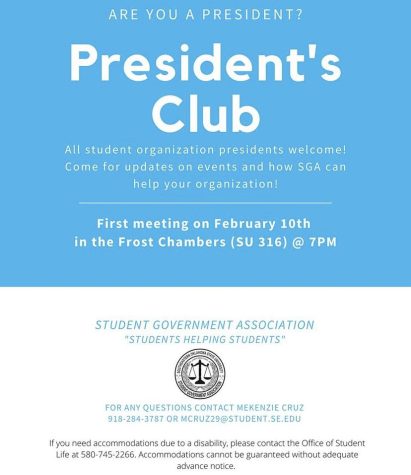 All student organization presidents are invited to the upcoming President's Club meeting, hosted by the Student Government Association (SGA) on Thursday, Feb. 10. The meeting will be held at 7 p.m. in Student Union room 316.
SGA Vice President, Makenzie Cruz, along with Erin Caldwell, SGA's acting President, encourages all organization presidents to attend, "SGA wants to hear your voice! We are always open [to] getting students feedback and learning how SGA can help you and your organization on campus!"
"This is an opportunity to bring together the presidents of all our student organizations," said Mitchell Emberson, Director of Student Life. "Topics at such meetings include, but are not limited to, funding, upcoming events, brainstorming, discussing a running calendar, as well as expressing struggles or reaching out to other organizations to request help for specific needs."
For more information, email Mekenzie Cruz [email protected].